JAVA技术人员英文简历模板
  在求职的时候多准备一份英文简历也许对你们找工作很有帮助哦!下面为大家提供JAVA技术人员英文简历模板,以供参考!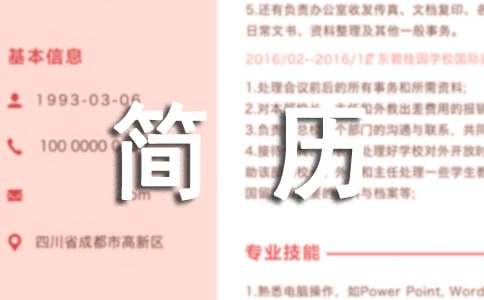 JAVA技术人员英文简历模板一
  YJBYS
  Room 212 Building 343
  Tsinghua University, Beijing 100084
  Email:
  Objective
  To obtain a challenging position as a software engineer with an emphasis in software design and development.
  Education
  1997.9-2000.6 Dept.of Automation,Graduate School of Tsinghua University, M.E.
  1993.9-1997.7 Dept.of Automation,Beijing Insititute of Technology,B.E.
  Academic Main Courses
  Mathematics
  Advanced Mathematics Probability and Statistics Linear Algebra
  Engineering Mathematics Numerical Algorithm Operational Algorithm
  Functional Analysis Linear and Nonlinear Programming
  Electronics and Computer
  Circuit Principal Data Structures Digital Electronics
  Artificial Intelligence Computer Local Area Network
  Computer Abilitees
  Skilledin use of MS Frontpage, Win 95/NT, Sun, javabeans, HTML, CGI, , Perl, Visual Interdev, Distributed Objects, CORBA, C, C++, Project 98, Office 97, Rational RequisitePro, Process,Pascal, PL/I and SQL software
  English Skills
  Have a good command of both spoken and written English .Past CET-6, TOEFL:623;GRE:2213
  Scholarships and Awards
  1999.3 Guanghua First-class Scholarship for graduate
  1998.11 Metal Machining Practice Award
  1997.4 Academic Progress Award
  Qualifications
  General business knowledge relating to financial, healthcare
  Have a passion for the Internet, and an abundance of common sense
  JAVA技术人员英文简历模板二
  Name:YJBYS
  Sex: Male Age: 21
  National: Han origin: Handan in Hebei
  Date of birth: September 10,
  Address are: Beijing Huilongguan
  Education: high school professional: a computer
  Graduate institutions: high school WU School of Handan in Hebei
  Mobile phone: 13xxxxxxxxxx
  E-mail: ****@****.cn
  So far the working hours: 2 years
  Job:
  Position: J2EE Software Engineer (Java / WEB)
  Individual professional skills:
  1. Familiar with the Java-based language, html, JavaScript;
  2. Familiar with J2EE, as well as the core of Jsp, Servlet, JavaBean, xml, ajax, for I have some knowledge about css;
  3. Be able to use the database Oracle, MySql, SqlServler management and configuration data and the use of PowerDesigner modeling tool;
  4. Familiar with the JDBC database connectivity;
  5. Familiar with the WEB server Jboss, Tomcat, WebLogic, such as the installation and configuration;
  6. Familiar with Eclipse, Jbuilder, and other development tools;
  7. MVC have layered software design and hierarchical design, skilled use of Struts, Spring, Hibernate, and other lightweight framework;
  8. Object-Oriented Analysis and Design System.
  9. Understanding of SOA
  Project experience:
  ● Handan Kairui company service hotline Network
  Time: September 2006 -07 in March
  Development Environment: Win2000, tomcat, SqlServer, JDK1.4.2_10;
  Tools: Eclipse 3.2
---
【JAVA技术人员英文简历模板】相关文章:
java英文简历模板12-29
java英文简历模板范文10-30
JAVA电子英文简历模板05-20
JAVA应聘英文简历模板05-08
2020技术人员英文简历模板11-30
Java英文简历范文11-06
java开发英文简历范文10-30
Java程序员英文简历07-09
java工程师英文简历范文07-28
Java程序员英文简历范文10-30