外贸业务员个人求职简历
  Name: graduates Nationality: Chinese
  Current location: Guangzhou National: Han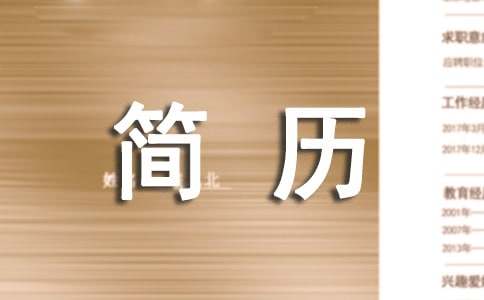 Account Address: Shaoguan stature: 158 cm ? kg
  Marital Status: Single Age: 23 years old
  Training and Certification: Integrity Badges:
  Job intentions and work experience
  Talent Type: General Job ?
  Position: Foreign Language Class: Translation, trade categories: foreign trade salesman,
  Work Experience: 1 Title: No Title
  Job type: Full-time Date Available: anytime
  Salary requirements: 2000 - 3500 hope that the Working Area: Guangzhou, Shenzhen, Zhejiang,
  Personal Work Experience: Company Name: on two occasions to participate in the "Hong Kong International Jewelry Show," beginning and ending Clear :2009-03 ~ 2009-06
  Company nature: Industry:
  Positions:
  Job Description: 2009.3.4 - 2009.3.8
  2009.6.18 - 2009.6.21
  Reason for leaving:
  Company Name: Seven Good Jewelry Group (HK) International Co., Ltd. beginning and ending Clear :2008-08 ~ 2009-07
  Company nature: Industry:
  Positions: Translation and foreign trade salesman
  Job Description:
  Reason for leaving:
  Education
  Graduate institutions: Shaoguan University Institute of Foreign Languages
  Supreme Education: Bachelor graduation date: 2008-07-01
  Learned professional one: English education in the professional study 2:
  By the education and training experience: the termination of Clear Start Clear School (institutional) professional to obtain the certificate Certificate No.
  2004-092008-07 Shaoguan University Foreign Language Institute English education diploma
  Language
  Language: English Excellent
  Mandarin level: Good Cantonese level: General
  The ability to work and other expertise to
  Personal capacity:
  English level: College English 6
  Professional skills: proficiency in English listening, speaking, reading, writing and translating skills, familiar with the basic culture of English-speaking countries.
  Computer Skills: Guangdong provincial level - master Word, Excel, Powerpoint, Frontpage and other software operating.
  Detailed personal autobiography
  Majors:
  Comprehensive English, Advanced English, English Reading, English Listening, English speaking, English grammar, writing, British and American literature, British and American conditions, English teachin
【外贸业务员个人求职简历】相关文章: