外贸业务员英文简历范文
  简历是用于应聘的`书面交流材料,它向未来的雇主表明自己拥有能够满足特定工作要求的技能、态度、资质和自信。成功的简历就是一件营销武器,它向未来的雇主证明自己能够解决他的问题或者满足他的特定需要,因此确保能够得到会使自己成功的面试。下面是小编为大家收集的外贸业务员英文简历范文,欢迎阅读,希望大家能够喜欢。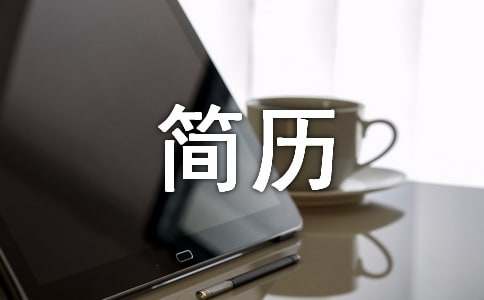 外贸业务员英文简历 篇1
  Personal information
  yjbys
  At present, guangzhou age: 30
  Account: nationality: guangzhou China
  Marital status: single national: han
  Integrity badges: did not apply for height: 166 cm
  Talent assessment: no evaluation weight: 50 kg
  objective
  Talent types: ordinary job
  Position: trade, import and export of foreign trade/specialist/assistant, shipping/air transportation operation
  Working fixed number of year: 1 title: no title
  Job type: full-time can date: at any time
  Requirements: 3000 ~ 5499 yuan a month Hope to working areas: guangzhou, guangzhou,
  Work experience
  Guangzhou industrial co., LTD. xx start-stop years: 2009-01 ~ 2014-04
  The company properties: the private sector by sector: clothing/textile/leather/shoe
  Position: foreign trade salesman
  Job description: responsible for clothing import and export business, purchase orders, factory orders, and to replenish onr's stock, determine whether the design need to the commodity inspection requirements, etc. Make customs clearance documents and materials of tax rebate, and coordinate the problem such as the factory and the guest's all sorts of contradictions.
  Leaving reason: the factory to leave China, to the development of Vietnam..
  * * * trading company in guangzhou start-stop years: 2007-01 ~ 2008-12
  The company properties: the private sector by sector: clothing/textile/leather/shoe
  Position: foreign trade merchandiser
  Job description: take the guest market purchase orders, and the accompanying translation. Unity and factory order after finishing the guest's purchase order and the goods time were determined. Go with stock issue and promptly set ark payment goods. Making export documents and the guest's customs clearance documents, etc
  Arrange customs declaration outfit ark, need the inspection, the inspection in advance.
  According to the requirements of the guests national customs clearance and provide the bill of lading fill material to ship company.
  After the bill of lading. And prepare all the clearance documents.
  When tracking container to the port of destination.
  Timely delivery customs clearance documents.
  Leaving reason: because at that time, the company cannot buy social security, welfare is not perfect.
  Education background
  School: university of guangzhou
  Highest degree: bachelor degree, graduation date: in 2007-06
  A special industry: business English specialized industry 2:
  The starting time Termination of the years In the school (institution) for professional certificate certificate number
  The 2000-09 2003 65-03 guangzhou middle school high school diploma, 00010603096
  The 2004-09 2004-06 guangzhou university business English college diploma, 110781200706021116
  2005-2005-12 of 12 guangzhou university business English CET - 4, 061144105000882
  The 2010-02, 2013-03 business English guangzhou university undergraduate course graduation card 110785201305000013
  Language ability
  Language: good English cantonese level: master
  Other foreign language ability:
  Mandarin level: master
  Ability to work and other specialty
  Good at to solve a complex problem into a specific task, to do things organized. Can calmly deal with various problems arising from the work and willing to communicate with people, working experience in foreign trade for many years, not only learned how to communicate with foreign, but also know how to set up foreign and factory in foreign trade cooperation above all kinds of information communication Bridges, as well as good coordination guests and plant all kinds of contradictions, this in my later work set a good basis for the above. Can in daily conversation in English, familiar with computer operation and office software (word, EXCEL, etc.).
  Good organization and coordination ability and communication skills, strong sense of responsibility, steady, serious, careful, have strong learning ability and good motivation, and highly work and team spirit, willing to communicate with people.
  Personal self assessment
  Personal autobiography: character cheerful, modest. Years of work experience, has been strict with himself, constantly enrich their life. Have been engaged in foreign trade industry work, let me know about the foreign trade business has been fully, also let oneself continuously improve their own knowledge of foreign trade. Both in procurement and export shipping and so on various aspects, let oneself become more mature...
  外贸业务员英文简历 篇2
  Name: Ms. M Gender: Female
  Wedlock: Single Nation: Han
  Residence: Hunan-Shaoyang Age: 26
  Location: Guangdong-Dongguan Height: 160cm
  Target Locations: Guangdong
  Target Positions: Trading-Foreign Trade Manager/Supervisor
  Trading-International business
  Trading-Foreign Trade Commissioner/Assistant
  Trading-Export commissioner
  Trading-Customs commissioner
  Target Jobs: Foreign Trade、 Foreign Trade Assist、 e-commerce
  Education
  2006-09 ~ 2010-07 Central South University Railway Campus Engish Bachelor Degree
  2003-09 ~ 2006-07 Ninth high school of Longhui High school High School
  【company name】 (2011-07 ~ 2011-12)
  Company Type: Foreign Enterprise Company Category: Trading,Commerce,Imports and Exports
  Job Title: Business assistant Positions: Sales Representative
  Job Description: 1.Collect clinent's new marketing requiments of some products for new business development .
  2.Help the sales and other department to get new samples which confirmed by our guests and send to them.prepar the Metting in time, ready samples for customer to select, records metting about some special requriments,when the guests pick in the data sample,we will make fhotograph to left at the end and send the sample to factory for samples.
  3. Communicate with customers and follow up the development of samples, send samples , quations to customers and provide product information and follow up on customer feedback.
  4.contact the customer to confirm a large sample, prompting orders, respond to customer inquiries, quote, confirm orders, receiving and processing orders, contact the factory ready to produce,control quality.
  5. confirm that the package details, review provides packaging materials, orders to the factory, contact the testing company inspection, help the shipping department to prepare shipping document collaboration booking, ready to ship.
  6. Maintain customer relations,hanle some shipping matters,to do the invoice data to the customer, loan recovery.
  7.Follow up the repeat order and development new market.
  【company name】 (2010-09 ~ 2011-04)
  Company Type: Foreign Enterprise Company Category: Printing,Packaging
  Job Title: customer service Positions: Customer service inspector General
  Job Description: 1.Tlephone and correspondence to and from customers to confirm orders related to the quantity and quality of supervision (orders, delivery dates, guitar models approach, the return delivery)
  2,Notice the FORCOST chasing customers, or other basis for production scheduling, make sure materials are in place, ready for production
  3.The production on the audit report, the work can yield clearing work, track work orders in order to reach a situation
  Follow-up production to meet customer delivery requirements (such as the way to take the goods, the latest arrival date)
  4.Urge PC planner based on customer delivery situation, developed in consultation with the production department production schedule, and negotiate based on production conditions and customer delivery.
  After the delivery of orders in a timely manner to the financial, do the reconciliation work, assisting the invoice to receive payment
  5.Delivery and customer consultation to develop into a shipping plan, warehouse, shipping good quality preparation. Can not solve their own problems to higher authorities in time, solve the problem
  6, The productive sectors of turnover period of supervision and timely storage, warehouse and timely preparation required quality department, please check the Ministry of Shipping Ministry to follow up packing until smooth delivery.
  7,Hhandling guest complaints (such as deficient, poor) in a timely manner to appease the guests in a timely manner to verify asatisfactory answer to the guests
  8. Maintain customer relations initiative to pay a return visit from time to time telephone customers e-mail
  外贸业务员英文简历 篇3
  name: zhu huai-min
  english name : adam chu
  personal data:
  sex: male
  native place: suzhou, jiangsu , china
  email: wtojobh@wtojob..com.
  office phone: 0577-65597777 mobil: 13600680907
  educational background
  major: international trade
  graduate school: shanghai foreign trade institute
  education:
  198x.2-198x.10
  nanjing normal university
  majored english language
  198x.2-199x.10
  shanghai foreign trade institute
  majored international trade
  academic main courses:
  management/marketing/international trade, import/export business, foreign trade english, computer skill and so on
  english skills:
  have a good command of both spoken and written english.
  computer abilities:
  skilled in use of windows / office XX
  self assessment:
  good professional skills. team work spirit. high liability and attribution. nice characters. self-motivated, respond well in high-pressure atmosphere. energetic, adaptable and able man, cooperative and honest to others
  employment experience :
  199x/2--199x/12 worked in st. mila co., (russia), sold leather coats in russian market and lived in moscow city.
  199x/2-XX/10 worked in masterstaff travel co., (russia), managed overseas chinese traveling.
  XX/2-XX/12 worked in alfa group co., (russia) in charge of hotel service for overseas chinese lives.
  XX/9-XX/6 worked in wujiang jinfeng wood door co., manage overseas market business.
  XX/7-XX/2 worked in dongguan jinzhong electric co., managed all exporting business.
  position wanted:
  to obtain a challenging position as a sales manager for overseas market.
  外贸业务员英文简历 篇4
  Shanghai Foreign Trade Institute
  Majored International Trade
  Academic Main Courses:
  Management/Marketing/International Trade, Import/Export Business, Foreign Trade
  English, Computer Skill and so on
  English Skills:
  Have a good command of both spoken and written English.
  Computer Abilities:
  Skilled in use of Windows / Office 2000
  Self Assessment:
  Good professional skills. team work spirit. high liability and attribution. nice characters.
  self-motivated, respond well in high-pressure atmosphere. energetic, adaptable and able man, cooperative and honest to others1998/2-2000/10 worked in Masterstaff
  Travel Co., (Russia), managed overseas Chinese traveling.in Alfa Group Co., (Russia) in charge of hotel service for overseas Chinese lives.
  2004/9-2005/6 worked in Wujiang Jinfeng Wood door Co., manage overseas market business.
  2005/7-2006/2 worked in Dongguan Jinzhong Electric Co., managed all exporting business.
  Position Wanted:
  To obtain a challenging position as a sales manager for overseas market.外贸业务员英文简历范文(二)Name: Zhu min
  English Name : Adam Chu
  Personal Data:
  Sex: male
【外贸业务员英文简历范文】相关文章:
外贸业务员求职英文简历范文09-15
2017外贸业务员英文简历范文10-22
外贸业务员英文简历模板范文10-22
外贸业务员的英文简历范文10-22
关于外贸业务员语英文简历范文10-02
2017外贸业务员个人英文简历范文08-06
2017外贸业务员的英文简历范文11-07
外贸业务员英文简历范本10-31
2017外贸业务员英文简历08-12