外贸业务员英文求职简历
  英语简历是用英语来介绍自己的个人资料、学历、工作经历、能力、业绩、性格、业余爱好等情况的书面报告,这是求职就业时相当关键的资料。下面是小编搜集整理的外贸业务员英文求职简历,欢迎阅读,供大家参考和借鉴!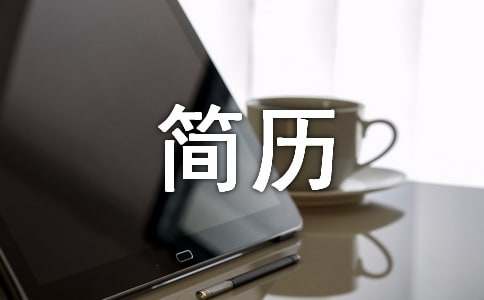 外贸业务员英文求职简历一
  FirstName:ViviLastName:HuDateofBirth:1979/**/**Gender:FemaleIDType:IDCardIDNumber:******************Residency:Shenzhen-FutianYrs.ofExperience:>8yea
  First Name:Vivi Last Name:Hu
  Date of Birth:1979/**/** Gender:Female
  ID Type:ID Card ID Number:******************
  Residency:Shenzhen-Futian Yrs.of Experience:>8 years
  Email:********@hotmail.net
  Mobile Phone:086-***********
  Current Situation:I'm looking for jobs now
  Nation/Region:China
  Hukou:Guangdong
  Education
  Time Period:1999/1--2003/4
  School:Gong Dong Uniersity of Foreign Studies
  Major:English
  Degree:Bachelor
  Description:- Comprehensive course(One)
  - Comprehensive course(TWO)
  - Engilish Reading Comprehension(One)
  - Engilish Reading Comprehension(Two)
  - Modern Engilish Gramma
  - Engilish-Speaking Countries:A Survey
  - Basic College Composition
  Overseas:No
  Time Period:1995/7--1998/7
  School:Jianshu Agriculture College
  Major:Mechanical Electronic Engineering
  Degree:Polytechnic
  Overseas:No
  Work Experience
  Time Period:2007/3--2010/12
  Company:Shen Zhen ** Technology CO.,LIMITED
  Industry:Electronics/Semiconductor/IC
  Company Type:Private Comp.
  Company Size:<50 people
  Department:Overseas Sales Department
  Job Title:International Trade Manager/Supervisor
  Job Description:
  1.Updated the product information every day
  on the website of global sources. Offered quotation to
  the inquiries. Managed the exhibition.
  2.Finding the customers from B2B website.
  3. Managed the customers who have done business with ournetpany.
  4. Managed the payment.
  Report Directly to:General Manager
  Number of Subordinate:2
  Reason for Leaving:To find a better opportunities
  Achievements:Exported netpany products to north America andEurope
  successfully, increased turnover 200%.
  Overseas:Yes
  Time Period:2005/2--2007/3
  Company:Shen Zhen ** PCB Technology Co.,Ltd
  Industry:Telenet Operators/Service Providers
  Company Type:Private Comp.
  Department:Overseas Sales Dept.
  Job Title:Sales Engineer
  Job Description:-finding new suitable customer ,andestablishing
  good business relationship with them.
  -Tracked the inquiries from global sources.
  -Maked quotation within 24 hours.
  -Meeting customer to discuss the details of business
  affairs,further cooperation,the issues of contract etc.
  Report Directly to:Sales Manager
  Reason for Leaving:To find new challenging opportunity
  Achievements:-Increased turnover 25% to 50%.
  -Developed new region market<
  外贸业务员英文求职简历二
  personal details
  resume number: 449911302 updating date: 2009-09-01 10:57:39
  name: mr. liang lizhi nationality: china (mainland)
  current place: guangzhou height/weight: 176 cm 73 kg
  marital status: single age: 26 years
  career objective and work experience
  application type: jobseeker
  preferred job title: trade/import-export: trade 、 sales manager/supervisor: 、 business/management:
  working life: 3 title: middle title
  job type: full time expected start date: in three days
  expected salary: ¥3,500--¥5,000 preferred working place: guangzhou shenzhen dongguan
  work experience : company's name: forever ture international co.ltdbegin and end date: 2008-11-2009-07
  enterprise nature: soly foreign funded enterprisesindustry: shoes/leather/toy
  job title: foreign trade documentary manager
  job description: mainly responsible for the development of new customers and maintain good relations with old customers. and is responsible for shipping-related work and do relevantly documents ! during in-service, container never occurred in booking more than scheduled, saving transport costs significantly.
  reasons for leaving:
  company's name: huizhou bomei cosmetics co .,ltdbegin and end date: 2007-03-2008-11
  enterprise nature: private enterprisesindustry: chemistry & chemical industry/biopharmaceutical
  job title: foreign salesman
  job description: contact customers by skype & email & msn or by other means , which help me to know the process of foreign trade. and i got to be familiar with some platform(eg:b2b website, fair and network etc.), through which developed 10 customers; so far, we have maintained good cooperative relations. compared to 2007, our sales volume increased by 73%; many times to participated and prepared the exhibition gain lot of experience. preparations for a successful fair in may.2008 and nov.2008.
  reasons for leaving:
  company's name: skyworth group co., ltdbegin and end date: 2006-11-2007-03
  enterprise nature: othersindustry:
  job title: assistant manager
  job description: deal with the daily affair. collect the useful information; involved in the development of the related marketing mix -strategies (for example: happy family selection and barter old for new etc. the activities are significant . of course, i participated in a large-scale promotional activities. during may.1-may.4,our team(includes 4 colleagues) sold a total tv 672.
  reasons for leaving:
  educational background
  name of school: huaiyang middle school
  highest degree: bachelor date of graduation: 2007-06-01
  name of major 1: international economics and trade name of major 2:
  education experience: start date end date education organization majors certificate certificate no
  2003-09 2007-05 hunan university of the arts and the science international economics and trade
  language ability
  foreign language: english level: excellent
  chinese level: excellent cantonese level: average
  relevant skills and abilities
  knowing the basic skill of microsoft office, skilled in use of word/ excel/ powerpoint /ppt etc.
  self-recommendation letter
  honest and reliable, easy to approach. initiative, have positive work attitude and be willing and able to work diligently without supervision. able to work independently and resource sharing; good communicator, problem solver, confident, ambitious, initiative, independent , aggressing. willing to work under pressure and grow fast with the company.
【外贸业务员英文求职简历】相关文章:
外贸业务员英文求职简历范文09-19
外贸业务员求职英文简历范文09-15
外贸求职英文简历08-24
外贸业务员个人求职简历11-16
外贸业务员英文简历范本10-31
2017 外贸业务员英文简历08-12
2017外贸业务员英文简历08-12
外贸业务员英文简历范文01-15
外贸业务员英文简历下载09-21