简短搞笑英文笑话
  有笑话,大家一起笑,这就是分享快乐,也许,快乐就是这么简単。下面小编为你带来简短搞笑英文笑话,希望你会喜欢。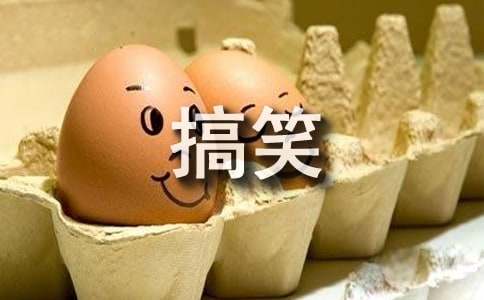 简短搞笑英文笑话一:Bird jokes
  Q: What do you get if you cross a woodpecker with a carrier pigeon?
  A: A bird who knocks before delivering its message!
  Q: What do you call a very rude bird?
  A: A mockingbird!
  Q: Where do birds meet for coffee?
  A: In a nest-cafe!
  Q: How does a bird with a broken wing manage to land safely?
  A: With it's sparrowchute!
  Q: What is green and pecks on trees?
  A: Woody Wood Pickle!
  Q: What happened when the owl lost his voice?
  A: He didn't give a hoot!
  Q: What do you call a Scottish parrot?
  A: A Macaw!
  Q: What do you call a bird that lives underground?
  A: A mynah bird!
  Q: What do you get if you cross a parrot with a centipede?
  A: A great walkie-talkie!
  简短搞笑英文笑话二:Drink like a fish
  A guy hosted a dinner party for people from work, including his boss.
  All during the sit-down dinner, the host's three-year-old girl stared at her father's boss sitting across from her. The girl could hardly eat her food for staring.
  The man checked his tie, felt his face for food, patted his hair in place, but nothing stopped her from staring at him. He tried his best to ignore her but, finally it was too much for him.
  He asked her, "Why are you staring at me.?"
  Everyone at the table had noticed her behaviour and the table went quiet for her response.
  The little girl said, "My Daddy said you drink like a fish and I don't want to miss it!"
  简短搞笑英文笑话三:Blonde Hiking
  One day a blonde is hiking in the woods. She follows the trail until she comes upon a river. As she is thinking how she can get across the river; another blonde appears on the opposite side.
  The blonde yells to the other blonde "How do I get to the other side?"
  The other blonde looks up and then down the river and yells back:
  "You are on the other side!"
  简短搞笑英文笑话四:Shoulda Said
  This guy walks into a bar with his golden retriever. "Hey, can I get a drink on the house if my dog talks for you?"
  "Dogs can't talk, pal. But if you can prove to me yours does, I'll give you a drink. If not, I get to kick your ass."
  "Okay," says the guy. He turns to his dog. "Okay fella. Tell me -- what is on top of your doghouse?"
  "Roof!" The man turns and smiles at the bartender.
  "THAT ain't talking! Any dog can bark!"
  "Okay boy. Tell me -- how does sandpaper feel?"
  "Ruff!"
  "What the hell are you tryin' to pull, mister?"
  "Okay, okay," says the man. "One more question please. Okay buddy, tell me -- who is the greatest ball player who ever lived?"
  "Ruth."
  The bartender beats the hell out of the guy and throws onto the sidewalk outside of the bar, then throws the dog out next to him. The dog stands up and looks at the guy.
  "Geez. D'ya think I shoulda said DiMaggio?"
【简短搞笑英文笑话】相关文章:
英语笑话简短搞笑11-08
搞笑简短英语笑话12-19
英文笑话小故事搞笑06-22
最搞笑英文笑话故事11-22
简短冷笑话大全搞笑06-17
搞笑简短笑话大全爆笑09-15
爆笑简短英文笑话07-17
英文笑话大全简短06-19
简短英文小笑话10-26