硕士英文求职简历
  写英文简历并无固定不变的单一形式,形式可以多样性。下面是小编为硕士生求职整理的英文简历范文,供参考。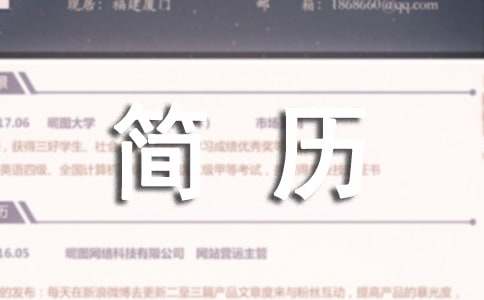 硕士英文求职简历范文
  Professional Master of Business Administration 2005.9-2007.7 ** Beijing University (rank: 4 / 37) major courses: human resources development and management, remuneration management, management and economics.
  Marketing 2001.9-2005.7 Bachelor ** Beijing University (rank: 3 / 100)
  Majors: marketing, consumer behavior, market research, organizational behavior, management, financial accounting, business English, business logistics, supply chain management.
  Practical experience
  Pay this 2008.11-research companies Commissioner ******
  Client call to confirm registration information, review the questionnaire, the use of professional tools such as SPSS for data analysis, organize and improve the investigation process. A comprehensive understanding of the pay structure and pay trend survey process; increased interpersonal understanding and communication, problem solving, ability to bear the pressure; training and guidance of management team members the ability to work together.
  2007.6-2009.10 write "hot掉渣phenomenon shaobing 4PS Analysis" report
  For the year 2005 Tujia shaobing掉渣phenomenon of popular chain stores, from product, price, channel, promotion of its popular means of four to analyze the reasons for, and predicted the future of chain stores. Use of marketing theory and practice of marketing research methods.
  2006.3-2006.5 advisory consulting firm, Assistant ****
  To assist the project manager to carry out telephone interviews, data collation and analysis; written project report. Telephone mastered skills, familiar with the operation of the process of consulting projects.
  2009.1-2009.3 write "sales force management" of the two chapters of the book
  Access to sales management and human resource management literature in recent 50 write "sales staff recruitment and selection" and "training sales" of two chapters. Improved data analysis and writing skills.
  School work
  2007-2009 member of the sports department of the Postgraduate Students Association, the Mission branch secretary
  Enhanced organization and coordination and communication skills.
  Honor Award
  Miyoshi 2006.11 Graduate School
  Outstanding graduates in Beijing 2005.6
  2009.11 Social Work Scholarship
  2009.7 International Business Simulation Challenge second prize
  Miyoshi 2007-2009 school students for three consecutive years
  Scholarships to study for three consecutive years 2007-2009
  2007-2009 Academy for three consecutive years of outstanding members
  Personal skills
  English level: 6 560 points
  Computer level: National 2 (C language)
  Proficiency in the use of office software, ERP software will be used
  Self-evaluation
  Sincere and restrained, focused
  Good thinking, communication and learning ability
  Good teamwork and team management potential
  Contact Information :...........
  Ph.D. 2009 Department of Chinese
  First, I studied the ball, playing for 15 years, first with the Shanxi University School, a former school ball team, so basically the regular game, but it seems less than professional teams in the amateur level, I still pay attention to "shape" of the kind, against the ugly game. I am anti-plastic loop on both sides play, but also a little familiar with the other game.
  Secondly, I have been a coach other sports, sports education experience of others, which who know me well know that.
  Thirdly, I particularly high level of theory, I dare say that this talk is that in 1997 published a book about sports, "Sports in China - China's sports culture and national character" and had been the province level incentives. Also wrote football and other sports hundreds of commentaries, there are two sports will also be published manuscript, "Xinhua Digest" in 1992 had nine full text of my thesis sports. National Taiwan Normal University to China since the publication of four sports papers, of which three core journals.
  Fourth, as table tennis results, only some between the Department and the Department of the match, play groups, won the championship. East China Normal University Department of Chinese graduate students last year, team play, I was sub-members of the armed forces.
  Fifth, I have a friend who sports circles, such as the Shanghai professor of sociology at the University of the old land, the former Shanghai team, after the City as a coach. Beijing also recognized a few engage in ping-pong, such as Teaching and Research Associate Professor北体大ball老唐, they have given me a lot of help.
  Sixth, to observe two national youth team table tennis training, seen them a high level of practice.
  Seventh, many table tennis community awareness, including a few from the sports school, two professional teams, but also the coaches and Deng had the ball two hours, location, the National Education Committee and table tennis room, met with an expert, and have passthrough, there are feelings.
  Eighth, be briefed on, the ball is easy to understand the rationale put.
  硕士英文求职简历模板
  name: yang yang membership:
  current residence: chongqing wanzhou
  nation: han
  household registration: xi'an in shaanxi
  height and weight: 175cm 65 kg
  marital status: single age: 23
  job search intention and work experience
  personnel types: fresh graduates
  candidates jobs: computer, human resources management, marketing and product marketing, and other related work
  work experience: 0 title: title
  job type: full-time can be filled: 2008-7
  salary requirements: according to your ideals and work requirements
  area:
  chengdu, chongqing, guangzhou
  practice experience:
  from january 2006 to february 2006 in xi'an of shaanxi trust-mart super-room cu xiaoyuan
  august 2006 to september 2006 in xi'an of shaanxi 7 space decoration company clerk
  january 2007 to february 2007 shanghai branch sales wanzhou changhong
  august 2007 to september 2007 in suzhou, dongguan mingschin electronics factory intern
  educational background
  graduate institutions: the joint institute in xi'an
  supreme education: bachelor graduation date: 2009-07-01
  by science: self-marketing professionals: information management
  training experience: september 2005 to july 2009 xi'an institute of joint marketing english four chinese proficiency test, such as computer erji b 2 (vf)
  language ability
  english: general vf: good
  chinese: excellent cantonese: good
  the ability to work and other expertise
  in addition i have a solid theoretical knowledge, hands-on practice and the ability to train. in practice, be sure of their superiors, not only enhance their marketing knowledge, training their own stringent thinking capacities, professional skills, but also into society, to understand all aspects of social life, to further broaden the depth of knowledge and learned a lot the reason people doing things. at the same time, freshman to junior i have participated in student organizations, in particular, i enjoy that as a team with a goal in a hard struggle, the feeling of bloody sweat and get a solid temper. particularly in dongguan, guangdong attachment to the junior days, let me gain a lot. furthermore, i have a good computer and management knowledge, familiar with the office, word, excel, powerpoint, such as self-learning photoshop flash.
  detailed personal autobiography
  1, with a solid marketing expertise and wealth of practical experience, able to adapt to the various affairs related to marketing the work.
  2, with good management ability, according to company requirements, competent management.
  3, with good computer knowledge, companies can handle computer-related work.
  4, i cheerful character, and good at communication. experience cadre of students for many years acquired a good sense of responsibility and leadership ability, can chikunailao, can rapidly adapt to a variety of environmental and integration of them. collective concept of strong, with the spirit of teamwork.
【硕士英文求职简历】相关文章:
2016硕士英文求职信模板02-13
求职英文简历06-28
护理英文求职简历06-30
客服英文求职简历03-29
律师英文求职简历03-29
硕士生优秀英文简历模板02-22
英文求职简历(4篇)02-25
英文求职简历(6篇)02-16
英文求职简历4篇01-15