2017程序员英文简历范文
  英文简历没有所谓的固定形式,你必须衡量自身以及职务需求,打造最能凸显优势的内容呈现方式,并且格式要自行设计。往往履历本身的`整体独创性也会是列入评分的项目之一。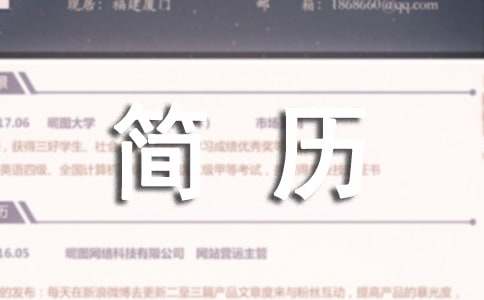 2017程序员英文简历范文篇一
  yjbys
  Male, 25,
  Education: college
  Working years: 1 to 2 years
  Expected salary: 5000-8000 yuan
  Working location: guangzhou - there is no limit
  Objective: other software/Internet development | software engineer
  Work experience (work for seven months, 1 year do 1 job)
  Guangdong vigor technology co., LTD
  Working time: since July 2015 [] 1 year 7 months
  Job title: software engineer
  Job content: 1, responsible for the development of software products within the r&d work.
  2, looking for bugs and tracking processing, for system testing.
  3, encapsulation user controls.
  Education experience
  Graduated in July 2015 Guangdong nanfang vocational college computer application
  Project/training experience
  In July 2015 - January 3000 POS intelligent management platform
  Project/training content: 1, the work order to all business process management, each node to carry out the corresponding positions.
  2, terminal equipment enters sells saves the management, purchasing, and in-out warehouse, sales, returns, inventory, the whole life cycle of equipment tracking.
  Three dimensional statement analysis, reporting center, provide decision-making reference price
  Professional skills
  C # : skilled experience: 2 years
  JavaScript: skilled experience: 2 years
  HTML: skilled experience: 2 years
  Used: skilled experience: 2 years
  ASP: skilled experience: 2 years
  Ajax: skilled experience: 2 years
  Certificate of award
  Certificate of title: the national computer level 2 certificate Issued by time: in June 2013
  2017程序员英文简历范文篇二
  yjbys
  Male, 28 years old,
  Education: college
  Working years: 1 to 2 years
  Expected salary: 8000-12000 yuan
  Work location: guangzhou - tianhe - dongguan
  Objective: to other software development | web design/production/Internet
  Work experience (work for 2 years and 9 months, did the 1 job)
  Guangzhou jun exhibition network technology co., LTD
  Working time: in May 2014 to February 2017 (2 years and 9 months]
  Job title: website programmers
  Job content: 1, the website development project activities, basic maintenance, add new interaction function;
  2, detailed design, code development, test, increase the enterprise management system;
  Education experience
  Graduated in June 2013 Guangzhou institute of navigation computer application
---
【2017程序员英文简历范文】相关文章: