需求分析师英文简历范文
  求职简历又称求职资历、个人履历等,是求职者将自己与所申请职位紧密相关的个人信息经过分析整理并清晰简要地表述出来的`书面求职资料,是一种应用写作文体。在这里求职者用真实准确的事实向招聘者明示自己的经历、经验、技能、成果等内容。求职简历是招聘者在阅读求职者求职申请后对其产生兴趣进而进一步决定是否给予面试机会的极重要的依据性材料。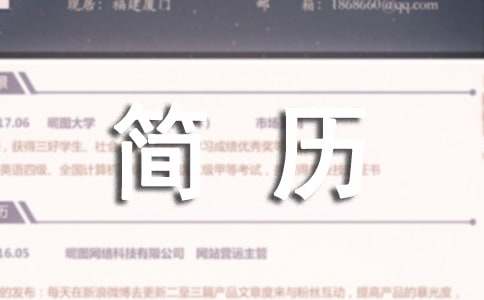 篇一:需求分析师英文简历范文
  yjbys
  Male,28-year-old
  Education: junior college
  Length of work: 2-3 years
  Expected salary: negotiable
  Working location: guangzhou - unlimited
  Objective: PHP developer |, other software/Internet development | requirements analyst
  Strong ability to execute ability and strong ability to learn
  Work experience
  (working two years, 10 months, 4 jobs)
  Guangzhou microamerican network technology co., LTD
  Working hours: March 2013 to May 2013 [2 months]
  Job title: PHP engineer
  Work content: to be responsible for the development of website project
  Guangzhou flying technology co., LTD
  Working hours: May 2013 to January 2014 [8 months]
  Job title: technical support/maintenance manager
  Work content: responsible for the computer maintenance, database and server in the customs.
  Guangzhou leshan information technology co., LTD
  Working hours: October 2014 to April 2016 [1 year 6 months]
  Job title: sales
  Work content: mobile product conference marketing, responsible for WeChat platform, APP sales.
  Guangzhou huixue information technology co., LTD
  Working hours: June 2016 to December 2016 [6 months]
  Job title: PHP engineer
  Work content: based on the development and secondary development website and shopping mall
  Education experience
  He graduated from guangzhou institute of navigation in July 2013
  Project/training experience
  From July 2012 to January 2013, PHP junior high school
  Project/training organization: guangzhou dodi network technology co., LTD
  Project/training content: front end: HTML, CSS, JS
  Develop CMS, ECSHOP, PHPCMS, AJAX
  The Codelgniter framework, LINUX, DISCUX, query optimization database
  PHP web development.
  Language skill
  Mandarin: good cantonese: good
  self-description
  Be conscientious and enjoy learning. Responsible for the work, never think that only an excellent team can develop excellent program, be good at learning from others in the team, and have strong learning ability. Able to work under heavy pressure. Familiar: HTML, CSS, JS love and familiar with PHP web development, the front end can be done.
  篇二:需求分析师英文简历范文
  yjbys
  Male, 32 years old
  Degree: bachelor's degree
  Working years: 8 to 10 years
  Expected salary: negotiable
  Working place: guangzhou - tianhe-unlimited
  Objective: | | securities/futures broker other financial securities analyst position/bank/financial adviser | | investment requirements analyst
  Integrity and integrity are reserved
  Work experience
  (working 4 years, 9 months, doing 1 job)
  Huatai securities research department
  Working hours: October 2009 to July 2014 [4 years 9 months]
  Job title: researcher
  Work content: macroeconomic research; Records of national policy orientation information; Futures contract research
  Education experience
  He graduated from sun yat-sen university in September 2008
  self-description
  Long-term analysis of the macroeconomy; A great deal of national policy orientation; Having unique analytical methods for futures contracts; 10 years trading experience.
【需求分析师英文简历范文】相关文章:
2.分析师英文简历