英文简历格式范文
  成功的简历就是一件营销武器,它向未来的`雇主证明自己能够解决他的问题或者满足他的特定需要,因此确保能够得到会使自己成功的面试。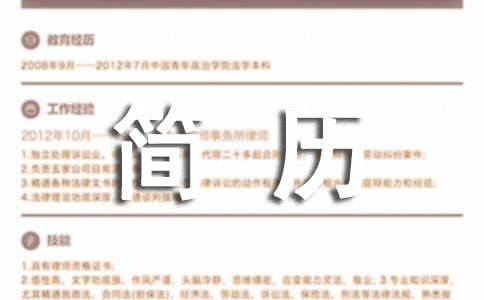 英文简历格式范文篇一
  department manager resume
  Sara's Resume
  Personal Data
  Name:
  Gender: Male
  Address:**University,
  Beijing 10056
  Tel: (010)123456789
  E-mail:
  Career objective
  To be employed by a transnational company in Beijing as a department manager.
  Education
  Guanghua Management College, Peking University, 1998--2002.
  Beijing Jingshan School, 1992--1998.
  Major
  Business Administration
  Summer Jobs
  1999 Made personnel system reform plans for a large state-owned enterprise in Tianjin.
  2000 Participated in planning the restructuring of several medium-sized collective enterprises in the suburbs of Beijing.
  2001 Acted as an assistant to the manager of a multinational company in Beijing.
  Extracurricular Activities
  Captain of the Peking University basketball team from 1998 to 2000.
  Won the university calligraphy contest in 1999.
  Chairman of the Publicity Campaign
  Commission of Peking University of Supporting Beijing's application for hosting the Olympics in 2008.
  Won the title of an Excellent Leader of the University Student Council in 2002.
  English
  CET Band Six in 2000: 93 points
  TOEFL in 2001: 658 points
  GRE in 2002: 2328 points
  Character
  Ambitious, honest and reliable, easy to approach
  Hobbies
  Doing on-line reading and traveling
  英文简历格式范文篇二
  RESUME
  Personal Information:
  Famlily Name: Wang Given Name: Bin
  Date of Birth: July 12, 1971 Birth Place: Beijing
  Sex: Male Marital Status: Unmarried
  Telephone: (010)62345678Pager: 99900-1234567
  E-mail: job.sohu.com
  Work Experience:
  Nov. 1998- present CCIDE Inc, as a director of software development and web publishing .Organized and attended trade shows (Comdex 99) .
  Summer of 1997 BIT Companyas a technican ,designed various web sites . Designed and maintained the web site of our division independently from s electing suitable materials, content editing to designing web page by FrontPage, Photoshop and Java as well ;
  Education:
  1991 - August 1996 Dept.of Automation,Tsinghua University, B.E.
  Achievements & Activities:
  President and Founder of the Costumer Committee
  Established the organization as a member of BIT
  President of Communications for the Marketing Association
  Representative in the Student Association
  Computer Abilities:
  Skilled in use of MS Frontpage, Win 95/NT, Sun, Javabeans, HTML, CGI, JavaScript, Perl, Visual Interdev, Distributed Objects, CORBA, C, C++, Project 98, Office 97, Rational RequisitePro, Process,Pascal, PL/I and SQL software
  English Skills :
  Have a good command of both spoken and written English .Past CET-6, TOEFL:623;GRE: 2213
  Others :
  Aggressive, independent and be able to work under a dynamic environment . Have coordination skills, teamwork spirit. Studious na ture and dedication are my greatest strengths.
---
【英文简历格式范文】相关文章: