英文-英文求职简历范文
Room XXX Building XXX
Beijing University, Beijing 100084
(010) 6277XXXX E-mail:_________
Zeng Yun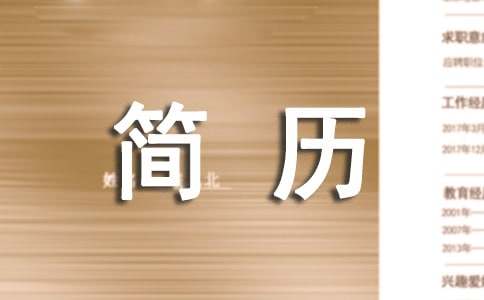 Objective
To obtain a challenging position as software engineer with an emphasis in software design and development
Education
1997.9-2000.6 Dept. Automation, Graduate School of Beijing University, M.E.
1993.9-1997.7 Dept. Automation, Beijing University, B.E.
Academic Main Courses
Mathematics:
Advanced Mathematics Probability and Statistics Linear Algebra
Engineering Mathematics Numerical Algorithm Operational Algorithm
Electronics and Computer
Circuit Principal Data Structures Digital Electronics
Artificial Intelligence Computer Local Area Network
Computer Abilities
Skilled in use of MS FrontPage, Win 95/NT, Sun, Javabeans, HTML, CGI, java script, Perl, Distributed Objects, CORBA, C, C++, Project 98, Office 97, Rational RequisitePro, Process, Pascal, PL/I and SQL software.
English Skills
Have a good command of both spoken and written English. Past CET-6, TOEFL: 650;GRE: 2300
Scholarships and Awards
1999.3 Jia Chen Award, the top honor given by Beijing University
1998.11 Metal Machining Practice Award
1997.4 Academic Progress Award
Qualifications
General business knowledge relating to financial
Have a passion for the Internet, and an abundance of common sense
【英文-英文求职简历范文】相关文章:
1.求职简历英文范文
2.求职简历英文范文
3.英文求职简历