银行职员英文个人简历范文
  简历是应聘的`基础和必要手段,英文简历是我们进入外企工作的关键,下面是小编搜集整理的银行职员英文个人简历范文,欢迎阅读,供大家参考和借鉴!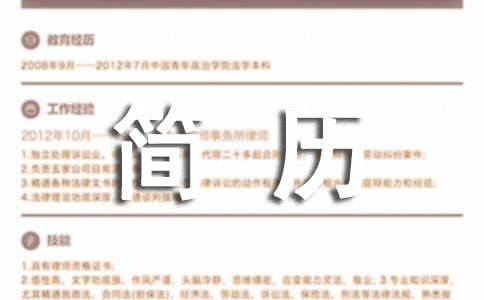 银行职员英文个人简历范文
  Richard Jackson
  10 Robinson Road
  Severna Park, MD 21146
  Telephone N 410-544-7209
  Email id: richard.jackson@gmail.com
  BANKING EXPERIENCE:
  Eurasia, 2000 - Present
  Vice President Structured Trade Finance
  Support short, medium and long term trade related financing through US government programs such as US Extrabank and
  Incorporated Credit Union ("ICU"), for worldwide customer requirements.
  Arrange 8 Medium Term Facilities ("Put option") in Latin America in the amount of US $285 Million.
  Arrange 12 US Extrabank Facilities with Monetary Institutions and Corporate customers in Latin America, Africa and Asia in the amount of US $350 Million.
  Arrange 13 ICU Facilities with Monetary Institutions in Latin America and Africa in the amount of US $300 million.
  Coordinate reallocation of Structured Tax Organization ("STO") unit from New York to Miami, reducing 80% of personnel while generating 50% more income comparing to previous years.
  Standard Chartered Bank, 1995 - 2000 Vice President of Specialized Banking
  Arranged 3 US Extrabank Facilities with Financial Institutions and Corporate customers in Mexico in the amount of US $120 Million.
  Arranged 2 Medium Term Facilities ("Put option") in Mexico in the amount of US $40 Million, generating up-front fees and profitable interest income.
  Banco Intranacional De Exterior, S.N.C., 1992 - 1995 Vice President of Intranational Banking America
  Head of International Banking unit for America in charge of short and medium term funding requirements, both through direct
  lines of credit and debt paper issuance in the US and Euro markets. Increased funding network in 200% and the lines of Credit amount from US $850 Million to US $2.5 Billion.
  TRADING EXPERIENCE:
  Promotions and Trade International, Mexico, A.C. 1990 - 1992
  Assisted potential exporters in Trade promotion and Mexican requirements.
  EDUCATION:
  Financial Institute of Maryland
  Specialty in Finance and Accounting 1994
  Universidad de Autonoma, Mexico City, Mexico
  BA, International Relationships and Economics 1993
  COMPLEMENTARY EDUCATION:
  Credit Skills Assessment, Eurasia Bank (12 modules approved)
  Relationship Management Training Programme, Eurasia Bank
  银行职员个人英文求职信
  Dear sir,
  On my graduation from college this fall, i am desirous of securing a position that will offer me opportunity in the field of import and export trading. knowing something of the scope and enterprise of your huge export department, i thought perhaps you would keep me in mind for a possible opening.
  I am strong and healthy, and shall be twenty years of age in september next year. at present i am a student in the college of xx but i shall graduate from the college this ing july, finishing the requirements in three years, i have had no business experience, but my college record has been good. a copy of my antecedents is enclosed for your reference.
  Dr. a.tang, president of the college of xx will be glad to tell you more about my character and ability, i shall be glad to call at any time for an interview.
  Best regards
  yours
【银行职员英文个人简历范文】相关文章:
银行职员英文求职信范文11-20
银行职员英文求职简历09-14
个人简历范文英文10-08
个人简历英文范文01-04
银行职员英文简历范例09-09
银行职员英文求职信09-01
银行职员英文求职信模板01-21
医学英文个人简历范文12-31
英文的个人简历范文09-05