国际经济与贸易专业英文简历
  前来说大部分的大学生在学习期间都会学习写个人简历,不过也不乏有一些人没有接触过个人简历。不管怎样,在求职期间个人简历作为第一道门槛,要顺林的通过就要写好它。首先需要做的就是要了解个人简历的构成,你所写出来的个人简历要简介明了、内容完整,不拖拉、不虚构,在个人简历有其必要的写作要素一定不能拿缺少。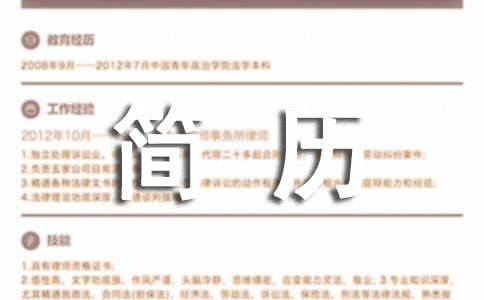 个人简历的效力是可以在后期的'加工中逐渐的提高,当然想要完善个人简历的信息,也必须要能够了解从哪些方面可以提高其效力。比如说从个人简历内容上,可以提高写作的语言应用、技巧的运用、还有重点的突出等等。
  国际经济与贸易专业英文简历篇一:
  yjbys
  age: 23
  sex: male
  health: good
  native place: huiyan ,guangdong
  college graduated: nanhua college of industry and commerce
  major: international trade
  major skill:
  familiar to all procedures of important and export, international trade; can establish business relationship with overseas customer. for example enquire , offer ,counter offer and negotiate. can make foreign trade documents as invoice and packing list.
  compute skill:
  can use freely such office software as word, excel , and so on.
  certificate
  bec a2
  work experience
  nov,2005—apr,2006: worked in chinatrans international ltd
  as a sales executive, i mainly take charge establish business relation with other lcl shipping agency company. and deal with the case about client
  may,2006--jun,2006: worked in guangzhou wealthy business management co., ltd
  sales counselor
  mainly take charge in cooperating with the net bar that developing our company's short food operation.
  seeks employment intention:
  foreign trade staff, purchaser, qc , sales executive
  believe your trust and my ability will bring both of us successful! and i hope i can contribute all my strength to your company's thriving and prosperors !
  国际经济与贸易专业英文简历篇二:
  yjbys
  Sex: Male
  National: Han
  Date of birth: August 27, 1988
  Marital status: unmarried
  Height: 173cm
  Weight: 55kg
  Residence: Chengdu, Sichuan
  Is the location: in Quanzhou, Fujian Province
  Graduate school: Chengdu Vocational College of Agricultural Science and Technology
  Education: specialist
  Professional Name: International Economics and Trade
  Year of Graduation: 2008
  Job intentions
  The nature of jobs: full-time
  Post Category: Human Resources
  Job Title: Human Resources Assistant; competent; Commissioner
  Work areas: Xiamen, Fujian; Quanzhou, Fujian Province; Shanghai
  Treatment requirements: 1,800 yuan / month may be negotiable; the need to provide housing
  Reported for duty time:may at any time
  Skills expertise
  Language Ability: English 2; English; Putonghua standard
  Education and training
  Education and experience: the time school qualifications
  September 2006 - May 2009 Academy of Sciences, Chengdu, agricultural specialist
  Training experience: the time a certificate of training institutions
  September 2008 - November 2008, Chengdu Branch of the National Academy of Agricultural Economics and Management of Human Resources Management Division Assistant
  December 2008 - December 2008 Agricultural Academy of Sciences, Chengdu Incubation Center start guide certificate SYB
  Work experience
  Company: First Pacific Davies Property Consultants (Shanghai) Co., Ltd.
  Time frame: 2008 7 month - September 2008
  Company nature: foreign
  Industry: construction, real estate, property management, decoration
  Hold office for: Property Management - Property Management Commissioner / Assistant
  Job Description: Responsible for building a clean, green, security, maintenance, reception, etc. return service supervision and inspection; assist in property management in charge of sending documents; the collection of valuable property information, as the company's property management work plans, etc.
  Reasons for leaving:
  Company: the Communist Youth League Committee of Chengdu Agricultural Sciences
  Time frame: March 2008 - February 2009
  Company nature: institutions
  In their respective professions: education, training, scientific research institutes
  Positions as: Senior Management - Other jobs
  Job description: as chairman of the Federation of Associations of schools, mainly responsible for the management of hospital and community service work; Associations responsible for managing the day-to-day work of various departments.
  Reasons for leaving:
  For additional information
  Self-evaluation: I am cheerful and lively, positive. I hope you can give me a chance, I will be real action to prove his strength as well as the company's choice! ! !
  The direction of development: I hope that your company can give me the potential to create a platform, I will use concrete actions to express myself.
  Other requirements: I hope that your company can give me the opportunity to learn so that they can keep up with the times.
【国际经济与贸易专业英文简历】相关文章: