大学本科英文简历范文
  求职者要仔细检查已成文的个人简历,绝对不能出现错别字、语法和标点符号方面的低级错误。最好让文笔好的朋友帮你审查一遍,因为别人比你自己更容易检查出错误。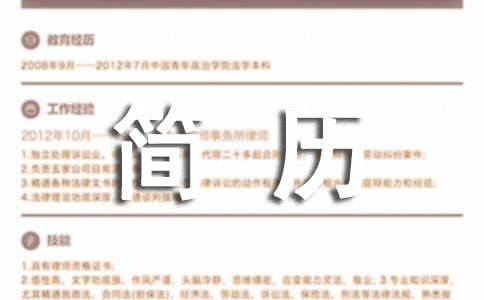 大学本科英文简历范文篇一
  yjbys
  Male, 24, Anhui people
  Education: bachelor degree
  Working lives: fresh graduates
  Expected salary: 3000-5000 yuan
  Working location: guangzhou - there is no limit
  Objective: administrative specialist/assistant lawyer | | legal assistants
  sophisticated Organization strong treats people the enthusiasm
  Working experience (worked for 10 months, did the 1 job)
  Guangzhou franco-american intellectual property service co., LTD. (guangdong) and the law firm
  Working time: in August 2015 to June 2016 (10 months)
  Job title: business commissioner (legal assistant)
  Job description:
  1, by telephone, QQ, WeChat many kinds of ways, such as customer development law and intellectual property rights;
  2, track maintenance developed customers, pass relevant information in a timely manner to customers, and quickly solve customer questions;
  3, cooperate with other members of the team to handle related affairs;
  4, cooperate with the competent business training to new colleagues to join.
  Education experience
  In June 2015, graduated from anhui university school of law
  Certificate of award
  Certificate name: C1 driver's license issued by time: in July 2014, issuing authority: anqing city public security bureau traffic police detachment
  Self description
  I am an optimistic, calm and steady, treats people the enthusiasm, sincerity;
  Serious and responsible work, initiative, the business level is more outstanding, in the company of before received the boss of rewards;
  Like thinking, modestly to communicate with people, in order to complement each other.
  Has the strong organization ability, reality get to work the ability and the group are synergetic spirit, can rapid adaptation each kind of environment, and fuses.
  Able to skillfully use the computer, master office software, ready to help others.
  Good at summarizing, good at communicating, has the good professional style and team work spirit;
  I like many kinds of sports activities, such as playing table tennis, badminton, football, etc., and often exercise, I firmly believe that a good body is the essential guarantee of success.
  大学本科英文简历范文篇二
  yjbys
  Male, 24, Guangxi people
  Education: bachelor degree
  Working lives: fresh graduates
  Expected salary: negotiable
  Working location: guangzhou - there is no limit
  Objective: meter | other travel position
  Strong interpersonal communication skills Ability to perform Strong learning ability Have affinity Sunshine is bright
  2 years work experience (work, made a job)
  Hangzhou bauhinia wedding company
  Working time: in June 2014 to June 2016 in [2]
  Job title: wedding planner
  Working content: mainly responsible for the wedding arrangement and planning, in order to achieve the maximum customer satisfaction
  Language skills.
  Cantonese: good Mandarin: good
  Certificate of award
  Name: certificate issued by the university English four levels of time: issuing authority: in December 2015, the national education bureau
  Certificate name: C1 driver's license issued by time: in December 2015 issued by institutions: the DMV
  Certificate of title: the national computer level 2 certificate Issued by time: in June 2014 issued by institutions: the national education bureau
  Self description
  I am a strong organizational ability, good at team work, has the strong analysis ability, able to adapt to the fast pace of work, has the stronger actual combat experience and actual operation ability, and can acquire the work. A strong sense of responsibility, can bear hardships and stand hard work, the concept of time is strong, good team cooperation ability, good at communicate with people, to accept the new thing ability strong, is a sunny and full of passion for the life and work. After college study, master the hotel and travel agency related professional knowledge, understand the zhejiang around the local conditions and customs. I think after graduation, can return to guangdong development directly. Ability to study, in order to improve their own time, took part in some social practice, strong interpersonal skills and team work spirit. And I am very love travel, during the university relies on their ability to anhui, jiangxi, fujian, guangdong and other places. I know a tourist and consumer's state of mind, so I can provide service for them, from the perspective of tourists hope your company can give me an internship opportunity, I will also you a different me.
---
【大学本科英文简历范文】相关文章:
6.英文简历的范文
8.优秀英文简历范文