在职人员英文简历范文
  个人简历最好用A4标准复印纸打印,字体最好采用常用的'宋体或楷体,尽量不要用花里呼哨的艺术字体和彩色字体,排版要简洁明快,切忌标新立异,排的象广告一样。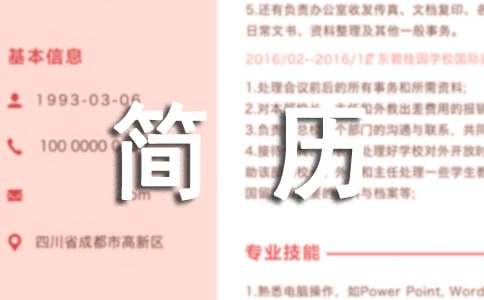 篇一:在职人员英文简历范文
  yjbys
  (man, 23)
  Expected position: hourly/hourly worker
  Highest degree: secondary school/technical school
  Expected daily salary: 120 yuan
  Working life: within 1 year
  Area of expectation: guangzhou - tianhe-botanic garden
  Work experience (working for 5 years, 2 months, 1 job)
  Guangdong science and technology vocational school
  Working hours: March 2012 to now [5 years]
  Job title: teacher of practice
  Work content: mainly to bring the students to the middle class skills competition, once the competitor
  Education experience
  July 2011: | computer network technology from |, guangdong university of science and technology
  self-description
  I have strong computer skills, in many aspects for the network, has repeatedly to participate in the secondary vocational skills contest, positive personalities, work earnestly.
  篇二:在职人员英文简历范文
  yjbys
  Male, 31,
  Degree: bachelor's degree
  Working years: 5-8 years
  Expected salary: 8,000-12,000 yuan
  Work place: guangzhou-whampoa huangpu
  Job objective: logistics supervisor/manager
  Strong communication capability and strong network
  Work experience
  (worked nine years, 11 months, got a job)
  China foreign shipping guangdong limited
  Working hours: June 2007 (11 months)
  Job title: logistics supervisor/manager
  Work content: at present, the state-owned enterprise is the head of the internal trade shipping project, which is managed by the domestic shipping team and the supervisor including the business and operation management.
  Education experience
  June 2011 graduated from guangzhou broadcasting and television university logistics management
  self-description
  For serious and responsible work, good at communication, coordination, has the strong organization ability and team spirit, in the logistics industry 7 years, by the salesman to the dispatcher, the member of the service to the business team leader makes me more understand the operation of the industry and business, also makes if I know what to do any work is to grab from basic knowledge, have a good foundation to good at communication with customers.
---
【在职人员英文简历范文】相关文章: