英文简历范文模板范文
  不要用简历模板。如果让你一口气看一样的模板,感觉是怎么样。还是自己写(制作)吧,也能体现你的水平。绝对不能出现错别字、语法和标点符号方面的低级错误。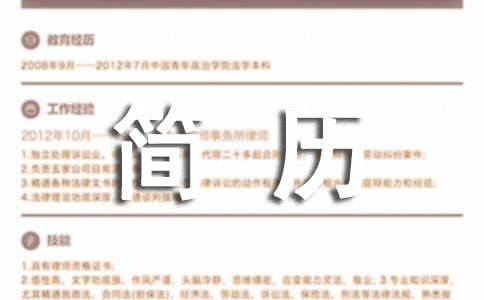 英文简历范文模板范文篇一
  yjbys
  Male, 24, The people of hunan
  Education: bachelor degree
  Working lives: fresh graduates
  Expected salary: 3000-5000 yuan
  Working location: guangzhou - there is no limit
  Objective: network sales | | edit | Internet site promotion network administrator
  Work experience (work for 1 year, 3 job)
  Tmall maintenance, promotion
  Working hours: between September 2014 and November 2014 [two months]
  Job title: maintenance and promotion
  Work content: starting from scratch with my classmates to do the construction of the website, mainly be responsible for the website backstage maintenance, customer service management
  Shanxi taiyuan national grid
  Working hours: between April 2015 and June 2015 [two months]
  Job title: database management/DBA
  Job content: responsible for the sorting of data, classification and entry, and makes the corresponding electronic map according to drawing
  Pasteurized milk
  Working time: in June 2014 to February 2014, 8 months []
  Job title: WeChat public platform
  Work content: responsible for the daily news push, propaganda activities
  Education experience
  Graduated in July 2015 Shanxi university of e-commerce
  Professional skills
  Excel: skilled experience: 3 years
  Word: proficient in experience: more than 4 years
  Language skills.
  English: better
  Certificate of award
  Name: certificate issued by the university English four levels of time: in May 2014, issuing authority: association of Chinese English
  Self description
  Familiar with network sales of various process and major B2C, B2B e-commerce business models, skillfully use all kinds of office software, taobao operation and promotion for a short period of time, done WeChat public platform, work steadfast progress, has the sense of responsibility, good at team cooperation, ability to learn quickly, can quickly grasp various kinds of office essentials, hope to be able to give me a platform to show themselves
  英文简历范文模板范文篇二
  yjbys
  Female, 23 years old
  Education: technical secondary school/technical school
  Working years: 3 to 5 years
  Working area: - zhoukou, henan
  Working experience:
  Job seekers had not fill in working experience.
  Education experience:
  Job seekers had not complete education experience.
  Introduce myself:
  Job seekers had not fill in to introduce myself.
  Give me a call, please make sure that in the xx nets see, thank you!
---
【英文简历范文模板范文】相关文章:
1.英文简历范文模板
2.英文简历模板范文
3.英文简历模板范文