环境工程师的英文求职简历模板
  curriculum vitae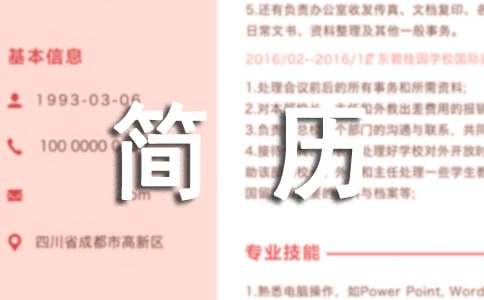 candidate: wayne
  gender: male
  date of birth: 1978.05
  subject: ehs supervisor/ manager
  work experience: >3 years
  hukou :
  home tel:
  mobile:
  e-mail:
  self assessment:
  with the bachelor of safety engineering, have rich experience of setting up ehs system and be familiar with fireproof system and ehs related laws, regulations and requirements. good relationship with local authorities.
  be familiar with iso14000, ohsas18000, and get a through understanding of ts16949.
  self-motivated, respond well in high pressure, team work spirit, high liability and attribution, nice characters.
  current package gross rmb: 80,000k per annum
  expectation package gross rmb : 100,000k -120,000k per annum
  working experience
  XX.04 - present shanghai meridian magnesium products co.,ltd.
  safety/health/environment engineer
  company profile:
  -shanghai meridian magnesium products co.,ltd is committed to being the leading full-service supplier of innovative magnesium die casting components and assemblies in the global automotive market.
  -customers are sgm, volkswagen, ford, daimler chrysler, etc.
  responsibilities:
  -establish and implement the hse management system according to saic & meridian corporation's requirements, monitor its compliance.
  -efficiently coordinate and maintain good relationship with relevant local authorities, and plan and manage hse permitting activities.
  -establish and maintain the new employee hse training & certification program, organize regular hse trainings (various subject, such as loto, msds, manual handling, forklift safety) for both shop floor operator & office staff.
  -inspect & maintain the fireproof system (abcd fire extinguishers/sprinkler/ fm200...) and qualified contractor regularly.
  -lead the housekeeping team(4 shifts), and implement, develop the 6s audit, assessment and publish.
  -conduct regular walk around audit and give recommendation on site.
  -establish the employee's exposure protection system. monitor the chemical management process (chemicals purchase, transportation, storage, use and disposal), and ensure all the waste(water, air emission, solid) meet to the environmental regulation.
  -establish and improve the risk management.(maintain, and exercise the emergency response plan regularly, support the business sustainability plan). assist the contractor to maintain emergency equipment (monitor/scba…)
  -assist the purchaser to qualify and select the proper ppe, supervise the distribution of ppe, record and summary the use status.
  -establish and improve the occupation health management system.
  achievements:
  -successfully establish comprehensive ehs system for the plant from blank.
【环境工程师的英文求职简历模板】相关文章:
it工程师英文求职简历模板08-14
关于环境工程师的英文简历模板10-19
软件工程师英文求职简历模板09-27
环境工程师岗位英文简历模板06-22
环境工程师英文简历模板范文11-17
英文求职简历模板07-28
电子工程师英文求职简历09-20
工程师个人英文求职简历09-13
英文的求职简历封面模板10-13