java软件工程师英文简历模板
personal information: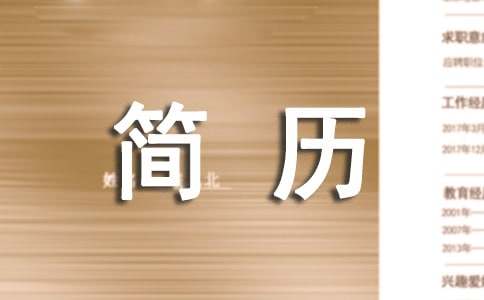 name: guoqing feng (you have a good selection of the staff)
sex: male age: 21
national: han origin: handan in hebei
date of birth: september 10, 1988
address are: beijing huilongguan
education: high school professional: a computer
graduate institutions: high school wu school of handan in hebei
mobile phone: 15888888888
e-mail: ****@****.cn
so far the working hours: 2 years
job:
position: j2ee software engineer (java / web)
individual professional skills:
1. familiar with the java-based language, html, javascript;
2. familiar with j2ee, as well as the core of jsp, servlet, javabean, xml, ajax, for i have some knowledge about css;
3. be able to use the database oracle, mysql, sqlservler management and configuration data and the use of powerdesigner modeling tool;
4. familiar with the jdbc database connectivity;
5. familiar with the web server jboss, tomcat, weblogic, such as the installation and configuration;
6. familiar with eclipse, jbuilder, and other development tools;
7. mvc have layered software design and hierarchical design, skilled use of struts, spring, hibernate, and other lightweight framework;
8. object-oriented analysis and design system.
9. understanding of soa
project experience:
● handan kairui company service hotline network
time: september 2006 -07 in march
development environment: win2000, tomcat, sqlserver, jdk1.4.2_10;
tools: eclipse 3.2
project description:
the project achieved a user login and user registration, users include: customer service, technical staff, developers and managers. to help customers solve problems based on a problem-solving (customer service) -> forwarding problem (technicians) -> forwarding problem (developers) -> forwarding problem (manager), the manager can find, delete, forward, and other functions, the ultimate problem-solving custom business, including the operations of this company (in real terms for the intermediary companies) and other business operations of the company to customize the use of the cart to achieve a variety of customized services, the main technology used is: struts + spring + hibernate (ssh technology integration) technology, and so on ...
● human-yi's office automation system
time: 09-08 years in 2007
development environment: winxp, tomcat, mysql, jdk14.2_10;
development: struts1.3.8 + spring2.0 + hibernate2.0 (ssh);
project description:
through the b / s on enterprise information management, includes the following modules, including the user log on to close / document management meeting, the notice management, human resources management, management of office supplies, vehicle management, document management, e-mail in-house management , the views of management, attendance management, audit. in this i am going to participate in the development of human resources and review the development, the development of the mvc design pattern based on struts + spring + hibernate, which hibernate package this platform, as well as all the data in the database operation; struts in this project serve as a view the realization of the function layer; and the commercial logic of spring by the full responsibility, a lot of work to be completed by the javabean. adoption of the entire project model of the formation of development, high-low coupled with the goal, to achieve the success of the operation of the database and logic separate layer, to improve the system scalability and reusability ...共2页,当前第1页1
【java软件工程师英文简历模板】相关文章: