酒店英文应聘简历模板
  对于酒店应聘的'英文简历的内容安排大家知道是怎么样的吗?以下是小编帮你们整理的酒店英文应聘简历模板,一起来交流吧。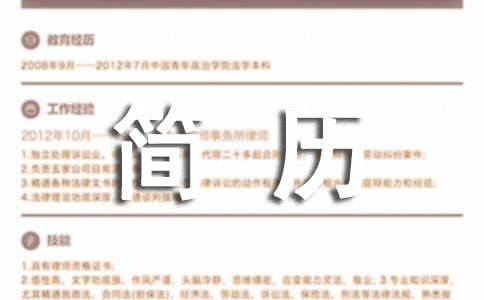 Personal information
  Name:
  Gender:female
  Ethnic composition:the han nationality
  Age:confidential
  Marital status:a secret
  Name:professional tourism management
  Major:management class
  Political landscape:party members
  School:fujian normal university
  Graduation time:in July 2017
  Highest degree:bachelor
  Computer level:master
  Work experience:within a year
  Height:162 cm
  Weight:48 kg
  Now home:xinluo district
  Registration:
  Objective
  Hope is engaged in the occupation:tourism, hotel management, administration, personnel, reserve cadres
  Expected salary:3000-4000
  Expect work areas:fuzhou fujian xiamen, fujian
  Expect nature of work:full-time
  Time:the fastest board meeting
  Must provide housing:no need
  Education background
  School name:fujian normal university (September 2013 - January 2017)
  Name:professional tourism management
  Education:bachelor degree
  Professional description:management, microeconomics, macroeconomics, management information systems, statistics, accounting, financial management, marketing, economic law, consumer behavior, international marketing, and so on
  Trained experience:
  Work experience
  Company name:hongqiao sheraton Shanghai Pacific hotel (July 2015 - January 2016)
  Industry:tourism, hotel, food and beverage service company nature:wholly foreign-owned. Foreign office
  Company size:work location:Shanghai
  Job title:intern
  Job description:the main job is to solve the problems encountered during the guests in the hotel, the guest and the hotel serve as the bridge between the good of each department:
  1、after receiving the guest reflect the guest room facilities contact the engineering department to solve problems.
  2、familiar with guest room, Chinese and English menu, record room order and conveyed to the restaurant.
  3、when reservations from work to help guests with the night of the reservation.
  4、responsible for the guest registered and claim the lost.
  5、familiar with the hotel business center equipment, the correct way of using the guests need to provide the necessary help.
  6、 both the layout of the hotel, there are familiar with the hotel surrounding attractions, shops, airport location and distance.
  Self assessment
  1、optimistic and cheerful personality, strong sense of responsibility, positive enterprising, careful careful, has the spirit of the bear hardships and stand hard work;
  2、as a class committee, director of community and internship work is responsible earnestly, industrious, have a strong sense of responsibility, full of the desire to do better, strong learning ability, and good at communication, timely complete the tasks, has the good team cooperation spirit;
  3、respect teachers, to the honest with each other, understanding, respect, my teachers and classmates get along well.
  Language ability
  Language name master degree
  Good English
  Good mandarin
【酒店英文应聘简历模板】相关文章:
1.应聘酒店英文简历
2.酒店应聘英文简历
3.应聘酒店英文简历
6.英文应聘简历模板