应聘外贸的英文简历模板
  在制作个人简历之前,需要了解简历模板的制作方式,以及什么内容不能出现在简历模板内。只有这种编写形式才能够提升个人简历的竞争力,从而获得面试机会。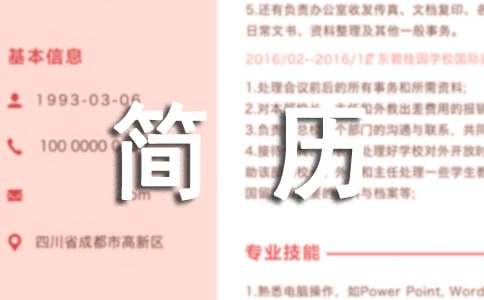 篇一:应聘外贸的'英文简历模板
  yjbys
  The 29-year-old jiangsu native
  Education: junior college
  Length of work: 2-3 years
  Expected salary: 5,000 to 8,000 yuan
  Work place: Shanghai - baoshan gu village
  Objective: other positions | garment/textile/leather craft accessories development/purchase | | fabric supplier development/management | production clerk/supervisor
  Work experience
  (working five years, doing three jobs)
  Wujiang juxin clothing co., LTD
  Working hours: March 2012 to June 2013 [1 year 3 months]
  Job title: foreign trade commissioner
  Do the business of the company, communicate with the guest, understand the customer's demand.
  Connect with the factory, request the customer to provide the factory technical section for quick and accurate delivery of the sample.
  Be responsible for the production tracking, quality inspection of large goods, large goods, and customs clearance.
  Responsible for the after-sales service after the goods are removed from the factory
  Filing and filing of business related information
  Suzhou jingzhou knitting enterprise co., LTD
  Working hours: December 2009 to November 2011 [11 months]
  Job title: other positions
  Work content: 1. Analyze garment weaving and design
  Use computer software to simulate design and design new patterns
  Verify that the design process is reasonable
  Revise the garment according to the requirement of the customer, and provide new sample quickly
  We have a limited company
  Working hours: September 2012 to July 2014 [10 months]
  Position name: foreign trade agent
  Work content: to be responsible for the contact with the guest, according to the customer's target sample request, provide the suitable sample clothing, the cost of accounting, the quotation, the receipt.
  Education experience
  July 2010 nantong textile technical college textile design
  Language skill
  English: general
  Certificate award
  Certificate name: university English level 4 awards time: October 2008 issue organization: national education examination center
  self-description
  A pleasant personality and a sense of responsibility
  With rich experience in factory work, as a common bridge between guest and factory, it has good coordination ability.
  Have a good sense of customer service
  4. Strong desire for knowledge and self-improvement
  篇二:应聘外贸的英文简历模板
  yjbys
  A 32-year-old from zhejiang province
  Degree: bachelor's degree
  Working years: 3-5 years
  Expected salary: 3000-5000 yuan
  Where to work: Shanghai - baoshan - other
  Objective: sales representatives/account manager/manager documentary | | production | international trade commissioner business development | e-commerce specialist/supervisor
  Learning ability
  Work experience
  (working 4 years, 3 months, doing 1 job)
  Shanghai norbo international logistics co., LTD
  Working hours: from February 2013 to May 2017 [4 years 3 months]
  Position name: sales representative/customer manager
  Job description: the sales manager of the company sells foreign quotation
  Education experience
  June 2008 Shanghai foreign studies university English language and literature
  Project/training experience
  June 2007 - June 2008 senior interpreter
  Project/training organization: Shanghai foreign studies university
  Project/training content: interpreting written English listening
  Language skill
  English: good German: general
  Certificate award
  Certificate name: university English: December 2006 issue: Shanghai foreign studies university
【应聘外贸的英文简历模板】相关文章:
4.应聘英文简历模板