采购经理英文简历模板范文
  采购经理英文简历的好坏,关键在于这份简历给人的印象如何,因此必须对写好的简历进行必要的加工,对它进行编排打印。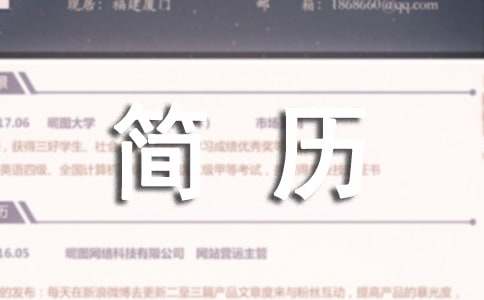 yjbys
  Gender: Male
  Wedlock: Married Nation: Han
  Residence: Sichuan-Nanchong Age: 34
  Location: Guangdong-Dongguan Height: 165cm
  Target Locations: Guangdong-Dongguan、 Guangdong-Guangzhou、 Guangdong-Shenzhen、 Guangdong-Zhongshan、 Guangdong-Huizhou
  Target Positions: Logistics/Procurement
  Automotive
  Management
  Light industry
  Target Jobs: Purchasing manager、 Sourcing manager、 Purchasing director
  Desired Salary: Negotiable Apartment needed
  When Can Start: immediately
  Education
  2012-09 ~ Present HK Asia Business University MBA Master Degree
  2001-09 ~ 2004-07 Si Chuan Science University Mathematics Junior College
  Training
  2011-07 ~ 2011-10 Dongguan PTS Training Center A Certificates of completion
  2010-08 ~ 2010-08 Jabil Circuit (Guang zhou) Ltd A ERP SAP
  xxxxxx Company
  (2012-10 ~ Present)
  Company Type: Foreign Enterprise Company Category: Communication,Telecom,Network equipment
  Job Title: Purchasing manager Positions: Department Manager
  Job Description: Effectively lead the whole team to complete the superiors to divide tasks. Cooperate with Samsung quarterly cost reduction and inventory reduction, do the JIT purchasing, and post-processing the stock material. Make the company purchasing cost accounted for 60% of the cost of sales. Increase the operating profit.
  Responsible for all the outsourcing processing projects, and suppliers to determine price, loss and trade terms and payment terms.
  Responsible for all new project quotation and bidding for SAMSUNG's projects, HUAWEI 's projects, and so on.
  Familiar with all of the outsourcing processing of Cost quotation, supplier capacity, quality and delivery.
  Get lower price from outsourcing suppliers which Samsung compared with other suppliers.
  Familiar with all of the magnesium alloy, spraying fixture and cooperate with suppliers and pricing system
  Lead the whole team to participate in company internal and external training, make each a colleague is improved and KPI assessment
  Reason for Leaving: Business restructuring
  xxxxxx Company
  (2007-01 ~ 2012-10)
  Company Type: Foreign Enterprise Company Category: Communication,Telecom,Network equipment
  Job Title: SCM Supervisor Positions: Manager Assistant
  Job Description: 2007/04~2011/04 I was working in automotive workcell of Jabil (Guangzhou). Jabil automotive workcell main production BMW lamp shipment to Valeo.
  Mainly in charge of quotation for new projects parity, negotiation and made samples for qualify from suppliers.
  that work quote for quarterly and negotiate cost saving with supplier. However we will get more MPV from each project. Achieved cost saving about US$160K due to 2 month in Automotivecell.
  At the same time, manufacturers of automotive parts industry requirements of quality, cost, delivery is very familiar with, but also familiar with the relevant mechanism parts and electronic components and surface treatment. For example, PCB memory, resistance. Capacitance, IC, connectors and other original. Especially PCB.
  Understanding of TS16949 & APQP,FMEA and so on.
  The management of all auto parts suppliers, new suppliers after strict evaluation and scoring the old firm to annual audit investigation.
  For mass production models I will ask supplier to cost saving for the quarterly and annual price and also asked vendors change to payment terms.
  The purchasing department every colleague by KPI examination.
  Effectively guarantee the product quality and accurate delivery.
  At same time know the requirements of automotive parts industry, electronic original quotation for example, seismic requirements, high and low temperature tolerance requirements, etc..
  Responsibly for new mold quotation for customer and double checked all the price, especially PCB, Memory & IC need to verify clearly and ensure competitive than our competitor. If not, BU cannot get more business from end customer.
  Negotiated with the suppliers and reduce the price when the economic crash and do the cost reduction for the company.
  Localize and find the second source to achieve cost savings and shorten the lead time goal.
  For HP workcell(2011/5~2012/9)
  Define the cost reduction goals and follow up with vendors. Especially for the metal and plastic parts.
  Responsibly buyoff and transfer tooling and transfer all the project. And confirm DFM with customer before develop tooling and follow up the status.
  Responsibly quote for production and tooling and compare price.
  I always try tooling and check the cycle time, part weight, runner weight machine tun and resin and made cost breakdown for every parts.
  Familiar with all the tooling material and understand process cost step by step.
  Familiar with all kinds of electronics and suppliers.
  2. For Management
  Responsibly all team work status and everyone feedback to us important things daily. At the same time follow up new projects schedule.
  Develop more than 200 toolings upon 2 years and put into HP project MP.
  Summarize fail and success in my job and give the college confidence and good dream.
  Let colleges know the response for ourselves. And often challenge new projects.
  Reason for Leaving: New development
  Project Experience
  Samsung S4 (2013-03 ~ 2013-05)
  Job Title: Purchasing manager
  Project Description: Development of new projects this year, Samsung S4 is the primary responsibility of each family business body. This year the company is relying on. All rely on performance and profits of the project. The company attaches great importance to all employees
  Responsibility: Development of new projects this year, Samsung S4 is the primary responsibility of each family business body. CEOs personally led by the entire team through the line of battle. All resource priority projects to meet the new S4. As Purchasing Manager prior to seize external resources to meet daily delivery. The same time to seize the plastic pellets, paint, accessories, and magnesium alloy supplier capacity. When the mobile phone market as well as due to the primary. Korea should follow jig, jig mold spraying schedule and recognition of progress.
  Special Skills
  Professional Title: Computor
  Computer Level: senior non-computer-specialty grade 2
  Computer Skills: Skills: SAP usage time: 60 months mastery: Mastery
  Strengths: Proficiency in the use of office software and ERP SAP and Oracal
  Language Skills
  Chinese: Good Cantonese: General
  English Level: CET-4 Spoken Good
  English: Good
  Career Objective
  Career Direction: (1) I have a year purchasing managers and purchasing Supervisor more than five years of working experience. Has been engaged in the electronics industry procurement and supply chain management work.
  (2) familiar with a variety of metal, plastic, electronic components, PCB, accessories, raw materials and packaging materials and processing technology. At the same time very familiar with various secondary processing such as; painting, plating, PVD, printing, laser engraving, hot stamping and other processes as well as nuclear price system.
  (3) engaged in the industry have a computer, printer, auto parts, and mobile phone manufacturing.
  (4) familiar with the project management approach, in line with SQE for quality improvement, as well as understand the various parts of the drawings.
  (5) I have rich resources of suppliers and good team spirit and good ethics.
  (6) can be very skilled in using SAP (R/3) system. Familiar with Lean and Kanban, pulling production.
  Requirements: (7) be familiar mold quotes and DFM review of overseas molds, jigs Buyoff.
  (8) can lead the team to complete the task of procurement arrangements superiors.
  (9) for the price cuts have their own unique way, can quickly reach the expected cost budget.
  Hopes to continue to play a purchasing manager positions his talents. Show their excellent communication and coordination, negotiation skills. Also want their mobile phones, auto parts and electronics industry shine.
  Self Info.
  Self Assessment: 1.Graduated from Sichuan University, Hong Kong Asian Business School MBA in Reading. CET, skilled use of English listening, speaking, reading and writing.
  2.Have 9 years of work experience and foreign sourcing Sourcing Purchasing Manager 1 year working experience.
  3 familiar with the company's procurement operations procurement processes and rich resources.
  4 proficient use of SAP (R / 3) system.
  5 has a strong cost-conscious, good cost control and accounting.
  6 has a good ability to negotiate prices and mold management capabilities.
  Hobbies: 7 Familiar market conditions, changes in the cost of the future of the market have some control.
  8 companies better supplier selection and evaluation capabilities, and can be responsible for supplier management and procurement management team.
  9 have good communication skills and good ethics.
  10 have a good team spirit and a sense of spirit.
  Rewards
  HK Asia Business University of 2012 annual outstanding student awards 2013-01-30
  Certifications
  University graduation certificate 2004-07-02
【采购经理英文简历模板范文】相关文章: