工程主管英文简历模板
  求职者之所以将很多宣言写入个人简历,其主要目的在于通过自己表示的决心,让招聘单位感觉到只要求职者获得工作的机会,必然会认认真真的完成全部工作任务,将企业作为全部生活的中心。其实企业需要的人才不需要将工作作为生活的全部,懂得享受生活的人才,才能更好的适应工作环境。单纯以各类求职宣言提高简历的.通过率效果微乎其微,甚至影响到招聘单位对于求职者的正确判断。尤其在制作个人简历书写各类求职宣言,不如将大量的篇幅提供与书写求职者的工作经验。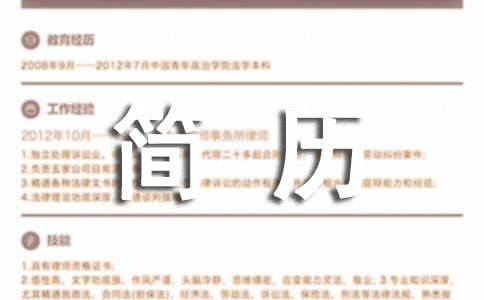 企业在招聘的时候,对于高学历与丰富经验的求职者认可度非常高。能够针对企业岗位突出自身技能优势,可以赢得企业的垂怜。帮助每位求职者在更短的时间内,找到更加适合自己的工作岗位,达到高薪就业的目标。提高个人简历的竞争力,不断的书写求职宣言毫无意义,能够将自己的高学历与工作经历突出显示,可以赢得招聘单位认可。从而在优质个人简历的帮助下,顺利完成就业,并且就业的岗位能够达到求职者与其的标准。
  以下是yjbys小编和大家分享的工程主管英文简历模板,更多相关资讯请点击(www.ruiwen.com/jianli)。
NAme:yjbys
Hukou:
Residency:
Work Experience:
Current Salary:
Tel:
E-mail:www.ruiwen.com/jianli
Career Objective
Desired Industry:
Desired Position:
Director ,Chief Representative ,Branch Office Manager
Desired address:
Shanghai
Desired Salary:
¥20,000-29,999/Month
Work Experience
2007/06—Present
***Company
Industry: Electronics/Semiconductor/IC
Quality QA/QC Manager
Responsibilities:


On-time delivery of quality products.
Daily monitoring of actual quality and quality reports.
Controlling and reducing quality cost while maintaining or improving quality thru training programs, cross training of workers, process improvement together with production or suppliers.
Ongoing interaction with production department to fully implement any required quality improvements.
Daily communication with VP in US on quality issues.

Report Directly to: US operation VP
Reason for Leaving: family factor
2005/12—2007/03
Liteon semiconductor
Industry: Electronics/Semiconductor/IC
Quality Reliability Assurance QRA director
Responsibilities:


Manage the department Goal and Objective Planning (KPI)in QC, QA, QS, EHS, RoHS, lab section. Coordinate cross department activities & problem solving.
Lead cooperate business plan and strategies review and optimization.
Lead cooperate supply chain management to secure raw material delivery & quality assurance & supply base development.
In cooperate level take part in the NPD and NPI project setup & executions.
Lead NPD qualification through APQP and PPAP.
Lead top management review of quality-oriented production performance.
Lead CQE team in response to customer complaints and problem solving to achieve total customer satisfaction.
Securing product, process change control and systematically retaining documented knowledge (including SOP, standards, specifications, PCN, ECN) within the organization.

Report Directly to: General Manager Number of Subordinate:116
Reason for Leaving: business depression & working environment
Achievements:


RoHS system build-up and optimization.
40% reduction of customer quality complaints.
Top 3 ranking of OEM customer satisfaction (ST, on semi).
Lead re-certificate of ISO14000 and TS16949.
Reliability engineering capability build-up to support NPD project to win time-to-market.
Get quality system audit success from Sony, Samsung, LG, and Omron to gain business opportunity.
CQE and supply chain management system setup.

2004/03—2005/08
"On" semiconductor (Spun off from Motorola)
Industry: Electronics/Semiconductor/IC
Strategic product Engineering Product Engineering Manager
Responsibilities:


Take initiative to set up and manage strategic product engineering team and coordinate 3 cooperate business units NPD and NPI projects in Asia pacific region through joint technical and marketing efforts with counterparts in cooperate level worldwide. The task included Marketing analysis, new product development & introduction, process and productivity improvement, new package & test development, continuous manufacture cost-down campaign etc. All of them are strictly in compliance with cooperate strategy "time to market" and "profit margin maximum" to reinforce company competitiveness in dynamic market environment.
In order to fulfill technical support need to local key customers and further R&D requirement of testing capability and capacity I independently handle new characterization lab establishment covering complicated budget review, equipment list definition, logistic issue forecast, lab layout preparation, subcontractor selection, facility construction management, regular quality audit, final inspection and qualification etc. working with HR on lab engineer hiring process.
Closely collaborate with application and customer quality engineer in customer-orientated manner on product complaint and quality issue feedback, technical consultation of diversified IC category etc.
Strategic outsourcing activities including supplier assessment, screening, management. Integrate supplier technical expertise into stepping up company business profit margin; cost reduction, product competitiveness etc.

Reason for Leaving: organization change
2003/06—2004/02
Grace Semiconductor Manufacture Cooperation
Industry: Electronics/Semiconductor/IC
QRA Engineering Senior Engineer leader
Responsibilities:


To be partner with technical development organization and take leadership to conduct total qualification projects of advanced process reliability of CMOS technology. Take use of various quality analysis tools on process stability & normal deviation, evaluation of product lifetime, yield indicator like Cp, Cpk etc. take ownership to write up a set of official qualification reports in line with requirement of ISO9001 and QS9000 as well as customer justification requirement.
Solid hand-on experiences on various reliability tests in lab and take management role of equipments and lab staffs on my own.
Working with FA sector to do failure analysis experiment to dig out root cause of low performance of in-line process. Failure mechanism study is essential to reveal drawback in new technology development process and provide improvement advice and approach to R&D staffs.
Act as single technical contact window with customers with advice related to product reliability issue. Demonstrate product quality level to customer from reliability performance aspect to build up confidence and attract more orderings.
Supply management to support IC package and other consuming material purchase in daily mass reliability tests.
People performance management.

Reason for Leaving: personal development
1998/02—2003/06
Intel
Industry: Electronics/Semiconductor/IC
Test & Assembly Engineering Engineer leader
Responsibilities:


Management in testing & assembly operation setup for three new factories startup.
Manage NPI and NPD projects in wide cooperation with test & Assembly & product engineering teams around Asia pacific region and in USA.
Supplier management to drive continuous cost reduction in high volume manufacturing and new material development for NPI and NPD.
Customer technical support on product issues.
Testing & assembly team management to drive various kinds of engineering projects to achieve the quality continuous improvement & productivity increase & cost saving.
ISO9000 certification.

Reason for Leaving: personal development
1993/09—1998/02
Shanghai textile hardware Factory
Industry: Machinery, Equipment, Heavy Industries
Technical Engineering Electrical Engineer leader
Responsibilities:


NPI project (10 million RMB) management with one year oversea working experience. The project covered business and technical negotiation including CNC machine & tool procurement, Process technique transfer, Automatic production line setup & qualification & pilot run & mass production.
Equipment line & people management for troubleshooting and maintenance.
NPD management with CAD design & CNC programming & first article qualification.
Customer management on product quality & application issues.
Supplier management for spare part & raw material localization & cost-reduction projects.

Reason for Leaving: personal development
Education and Training
2002/03—2005/01
Fu Dan University Microelectronics Master
1998/09—2001/07
Shanghai Jiao Tong University Computer Application Bachelor
1990/09—1993/07
Shanghai Textile Academy Electrical Engineering and Automation
2004/11—2004/12
Internal training People hiring and management
2002/03—2002/05
Internal training Finance and business management basic
1999/05—2000/02
Internal training Total Quality Management
Professional Skills
Language Skills:
English: VERY GOOD
Self-appraisal
Self-motivated fast learner team work spirit good team leadership strict discipline sense good interpersonal skill.

更多相关文章推荐阅读:
【工程主管英文简历模板】相关文章:
2.主管英文简历模板
3.主管英文简历模板