销售类英文简历表格
  多次使用数字在自己的英文简历中出现,会让考官不自觉的认为你的经历丰富,比单独用文字表达会有着让人意想不到的效果。巧妙的运用比例,如,在学校获得奖状的次数平均到每个学期是多少,在这个学院自己所占的比重又是多少?这样不经意的小数字就会突出你的优势。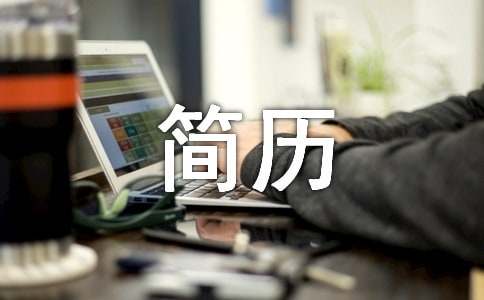 不要说在英文简历中一味的`强调自己曾经在哪里工作过,而是强调自己在曾经工作的地方获得过什么表扬,有过什么样的工作成绩以及自己的工作效率是什么样的。这样可以隐藏自己工作经验少的缺点,反而突出了自己有着较好的工作能力。
  很多求职者在写英文简历的时候光顾着内容而忽略了排版问题。像在《提高个人简历质量技巧介绍之细节篇》一文中同样提到排版的重要性。在个人简历中将自己认为重要的地方可以用些小符号做个重点标记,让考官的眼神不由自主就看向自己个人简历中的重点部位,从而忽略你可能有的烈士,提高你在众多简历中的竞争力。
Name:yjbys
Hukou:Guangdong
Residency:Guangdong
Work Experience:
Current Salary:XX/Year
Tel:
E-mail:www.ruiwen.com/jianli
Career Objective
Desired Industry:
Electronics Micro-electronics, Automobile, Computer Software, Computer Hardware Network Equipment
Desired Position:
Computer· Network· Technology, Marketing· Public Relations (PR)·Media, Sales
Desired address:
Hong Kong, Guangdong, Beijing, Shanghai
Desired Salary:
Work Experience
2008/01—Present
***Company
Area sales manager
Location: Guangzhou & Shenzhen
Responsibilities & Achievements:
1. Responsible for all Microsoft software and Microsoft sever products Retail Business Development activities in the China Southern Regions. Overseeing the sales and marketing management team in China Southern Regions.
2. Develop and manage the sales and distribution function of the company through residential dealers' network.
3. Work with Asian Area Management office to adapt, plan and execute regional corporate programs and initiatives. Assist top management in planning and developing strategies for the business by continuously providing feedback on opportunities in the market for business.
4. Work with top management to implement and execute both long and short term business strategies to enhance market shares and profitability.
5. Develop Interior Designer Channels through various marketing programs and selling tools adapted from Asia Regional Office.
6. Manage relevant reporting of management and financial information for the sales and marketing department.
7. Maintain and develop corporate image and reputation, and protect and develop company's brands via effective and creative marketing management programs as well as targeted PR exercises and intellectual property management.
8. Monitor competitors' activities and preempting their actions by developing and implementing counter action plans. Ensure cost efficiency by maintaining proper control on sales and marketing expenses within approved company budgets.
9. Monitor consumer feedback and plan suitable advertising and promotional activities for each area within the China Southern Regions Working with field sales team to set specific expectation through accurate forecasting, qualifying and closing projects.
10. Ensure competitive edge by continuously engaging new product development with brand groups and product management team within China as well as global offices.
2007/01—2007/12
Apple Computer corp
Area sales manager
Location: Guangzhou
Responsibilities & Achievements:
1. APPLE computer production & IPOD production salsas manager. Huanan Area channel management. Manage and grows the all kinds of Apple production business in South China. And breakdown all the target to every sales and make sure the target would be finished every month.
2. Prospect the sales territory, contact, qualify and close deals, Build and manage a pipeline and continually generate new accounts, forecast the sales activity and control marketing activity.
3. The main job was making the Hunan area sales strategy and marketing select appropriate activities. Conduct Sales forecast and generate sell-in plan. Identifying opportunity to select area main dealers and area channels & Develop city & channel network in selected region.
4. Manage channel inventory and conduct Product performance analysis, manage and work with direct key partners to achieve sales target.
5. Working with key business stakeholders in ensuring key requirements or change requests are captured and addressed. Control the channel balance with the key partner, distributor, and dealers. Control area production price and promotion.
6. Production Promotions and Lifestyle Marketing - define like-minded brand partners and develop co-marketing campaigns whereby these partners broadly endorse the Apple brand and our products to their constituencies. As example, the Pepsi promotion.
7. Contact with Shopping-mall, IT-mall owner, build the open door adv for found new APPLE shop.
2003/03—2006/12
Sony (china) Limited corp
Sales manager
Location: Guangzhou & SZ
Responsibilities & Achievements:
1. Personal move computer (VAIO) production & IT channel Shenzhen Area sales supervisor. Manage and grows the VAIO production business in South China.
2. The main job was making the Shenzhen area sales strategy and marketing select appropriate activities. Identifying opportunity to select area main dealers and area channels & Develop city & channel network in selected region.
3. Tsshe marketing mission is data acquisition plan to ensure that new data attributes or audiences needed to drive marketing and communication initiatives are identified, prioritized and acquired in a timely manner. Work closely with regional systems and data teams to ensure that new data initiative or systems deployed or upgrades to existing systems do not affect the integrity of subsidiary databases.
4. Manage and develop Retail network, VAIO SHOP, IT Malls, Large Format Stores, and Chain Stores etc. Channel management / sales forecast and Channel/retailer development. Promote the marketing share up to the target.
5. Communicates with clients at the most senior levels and maintains a continuing relationship with the client at senior and operational levels with targeted clients.
6. Drives business needs analysis; leads sales team in obtaining the business requirements to help them define the VAIO-Production to support the business need.
7. VAIO B2B operation. The key dealers' & government stock management. Establish and maintain the relationship with the key clients/main customs and ensure the conformances are satisfied. Closely work with the main customs and Gov stock. Selecting good offerings and distribution channels to provide an optimal financial return.
8. Deal with the focal point for both internal and external communication. Good communication and interpersonal skills. Enough competency of driving to win.
Education and Training
2000/01—2003/06
Jilin University
Japanese economic and culture Foreign Languages Bachelor
1999/09—2003/06
Jilin university
International business Administration Bachelor
Professional Skills
Language Skills:
English: Fluent
Japanese: Fluent
Grade of English: CET 6
Oral English: Fluent
Self-appraisal
A position as IT Area sales manager which will benefit from my 7 years of IT and commuter retail channel management experience and 3 years of customer management experience in foreign company. I also have 4 years team-leading management experience, Marketing Resource planning, development, cost control, ROI management.
【销售类英文简历表格】相关文章:
1.销售类英文简历
2.销售英文简历表格