英文版求职简历表格
  在英文简历的最前页,附上一页求职信,表达你对该企业具体某一职务的兴趣,然后简单的介绍自己的学历背景与工作经验,并简列出职业生涯乃至人生规划的`重点。这样可以让HR在浏览简历时,能够快速了解你,同时也容易记住你的优势及对自己职业生涯的定位与思考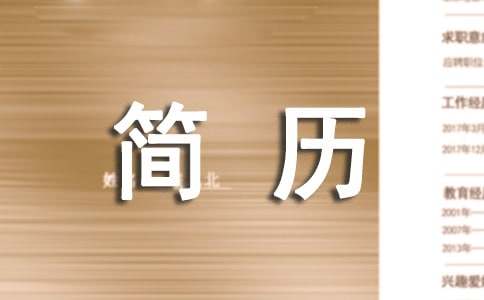 简历重点突出近3年经历。一个人的经历是很多HR关注的重要环节,因而简历也是HR对你产生良好第一印象的关键,如果有一个理想工作值得你去争取,如何制作一份具有战斗力的简历就需要好好研究。在职人士应包括个人资料、经验与优势简介、工作经验、荣誉、特殊技能与训练、参与过的活动、学历背景等。
| | | | |
| --- | --- | --- | --- |
| Name: | yjbys | Nationality: | China (Mainland) |
| Current Place: | Baiyun | Height/Weight: | 156 cm 50 kg |
| Marital Status: | Single | Age: | 32 years |
Application type:
Jobseeker
Preferred job title:
English Translator: marketing merchandize 、 Foreign Trade/Import-Export Specialist/Assistant: export merchandize 、 Leather/Shoes Industry: xport merchandize
Working life:
7
Title:
Senior title
Job type:
Full time
Expected Start date:
In a day
Expected salary:
¥2000~¥3499
Preferred working place:
Guangzhou Jiangmen Guangzhou
Company"s name:
****CO., Limited Begin and end date: 2007-01-2009-08
Enterprise nature:
Industry:
Job Title:
marketing translater
Job description:
Worked as a marketing translater for TarGet trade company,the main work is that show up the foreign client
go to marketing and the factory,when finish the order ,following up the date \quality\ material \and paymen,somtime acording client request looking for the new simple from the marketing,,ct..
Reasons for leaving:
Company"s name:
****CO., Limited Begin and end date: 2005-03-2007-12
Enterprise nature:
Private enterprisesIndustry: Trade/Consumption/Manufacturing/Operation
Job Title:
export merchandize
Job description:
worked as a merchandizer clerk for VoBand agency ,the main work is that received the order from client .then sent the order to factory .following up the client requested .book.payment.
Reasons for leaving:
private
Company"s name:
****CO., Limited Begin and end date: 2002-08-2004-12
Enterprise nature:
OthersIndustry: Traffic / Transportation / Logistics
Job Title:
merchandize
Job description:
Work is mainly responsible for: follow up to Office and the orders form clientand the important thing is that communicated and feedback of information between the company, production progress in the quality of goods, goods period (including jeans, printing and dyeing, embroidery, tack on beading, jeans), as well as familiar with the men"s major brands. work is received the order from client ,then arrange the orderto factory ,following up the client requested ,making invoice and packing list ,booking ,payment .
Individual words
Reasons for leaving:
private
Name of School:
TV of taishan
Highest Degree:
Associate
Date of Graduation:
2002-07-01
Name of Major 1:
compulsory education
Name of Major 2:
Education experience:

| | | | | | |
| --- | --- | --- | --- | --- | --- |
| Start date | End date | Education organization | Majors | Certificate | Certificate No |
| 2003-08 | 2004-08 | feather pc | high office | 4th computer | 0308040 |
| | | | |
| --- | --- | --- | --- |
| Foreign Language: | English | Level: | excellent |
| Chinese level: | perfect | Cantonese Level: | perfect |
Relevant skills and abilities

Cheerful, modest, self-discipline, self-confidence, (under I).
Another: The most important is the ability, I believe I will feel that your company is the right person to the post!
Look forward to the interviews with you
I am strong adaptability, and strong sense of responsibility, diligence work, and has a good team able to skillfully operate a wide range of office software and equipment, in order to be equal modern office needs.
Familiar with the transfer, according to client's orders required for the style, color plates to make first semlpe sent to client quotation ,write to complete the whole process of the clothes.
Self-recommendation letter
Please give me a chance, I will also you to dazzling brilliance.
【英文版求职简历表格】相关文章:
1.英文版简历表格
4.表格求职简历
5.英文版求职简历
6.求职简历英文版
8.求职简历表格