秘书英文求职简历表格
  想要使用心理优势来打动对方,首先要做到的就是能够了解到对方在招聘上是以怎样的标准来选择个人简历。很多人都是以自己的主管意识为主导,写出来的是自己喜欢的个人简历类型,这样肯定不行。要按照招聘方的标准来有针对性的写个人简历,比如说个人简历的篇幅上要适当,语言用词上尽量以及事实为基础,不要过于感情化、口语化。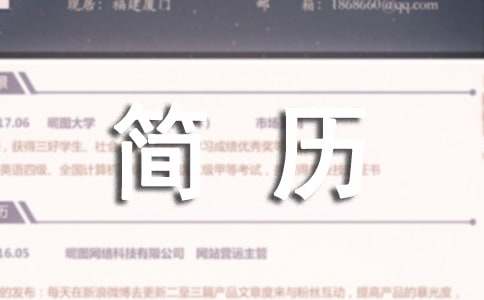 个人简历的.外观设计上是一个非常重要的方面,能够将个人简历设计的非常美观,则就能够在第一印象上给对方留下的良好的印象,进而也就可以更好的体现个人简历的价值。能够让对方满意的个人简历视为最好的个人简历,在个人简历上如果多方面能够让浏览的招聘者,看到自身能的价值,那么对方也就没有拒绝的理由了。
  下面是yjbys小编和大家分享的秘书英文求职简历表格,更多相关资讯请点击(www.ruiwen.com/jianli)。
Name
yjbys
Gender
Date of Birth
Location
Contact No
Address
E-mail
www.ruiwen.com/jianli
Job Target
| | |
| --- | --- |
| Target Industry | CEO/GM/President Assistant ,Admin Manager/Supervisor/Office Manager ,Admin Staff/Assistant ,Executive Assistant/Secretary |
| Target job | The hope responds to a call for recruits post |
| Target address | Shanghai |
| Target salary | ¥3,000-4,499/Month |
| To hillock time | The new post can in the long time assume the post |
Working Experience
20xx/07—20xx/07
XXX
Industry: Hospitality/Tourism
Security Executive Assistant/Secretary
Responsibilities & Achievements:
Keep file amd reply e-mail, manager office articles regularly, receive incoming phone Check, analyse, search and translate the related information, draft report, summary, notification, memo and other important files Check departmental attendance monthly and statistic benefits and make financial reimbursement Accomplish other temporary tasks.
20xx/10—20xx/06
Radiccon Food (Shanghai)Co., Ltd
Industry: FMCG( Food, Beverage, Cosmetics)
Sales Sales Admin. Executive/Assistant
Responsibilities & Achievements:
Deal with sales orders, put sales data into computer order system Written and oral translation about information of company Routine paperwork, correspondence and filing Statistic and calculate sales record on bonus percentage.
20xx/09—20xx/09
Prima Precision Machinery (Shanghai) Co., Ltd
Industry: Machinery, Equipment, Heavy Industries
Sales/ President Sales Admin. Executive/Assistant
Responsibilities & Achievements:
Handle paperwork, correspondence and file management Make business appointments, arrangeeetings, schedule, agenda and take meeting minutes Check and reply e-mail and deal with all sorts of telephones Receive visitors and pick up guests at the airport Cooperate the affair between departments Daily and weekly report to the manager and up-to-date.
20xx/09—20xx/09
China Travel Agency (Pudong Branch)
Industry: Hospitality/Tourism
Sales Sales Assistant/ Trainee
Responsibilities & Achievements:
Filing, deal with fax and paperwork Make tour itinerary according to requirement of the tourists Arrange schedule, accommodation, transportation and entertainment for the tourist Book tickets and reserve hotel rooms, restaurant, traveling bus Meet with main travel-group and personal guest to discuss travel issues Follow and organize the travel-group as a guide.
Education/Training
| | |
| --- | --- |
| 20xx/03—20xx/04 | Teacher Normal University Tourism Management Associate |
| 20xx/09—20xx/04 | Jiao Tong University and Tour institution of higher education Hotel Management Associate |
| 20xx/10—20xx/10 | Part-time Accounting Employment Certificate |
| 20xx/07—20xx/10 | Drivers' Training School Drive Driver's License B |
Certificate
| | |
| --- | --- |
| 20xx/10 | Accounting take-up certificate |
| 20xx/08 | Office Automation Certificate |
| 20xx/10 | Driver's License |
| 20xx/10 | CET4 |
【秘书英文求职简历表格】相关文章:
2.秘书求职简历表格