大学生个人英文求职简历模板
  大学生应该备好一份英文简历,下面是大学生个人英文求职简历模板,希望对你们有所帮助。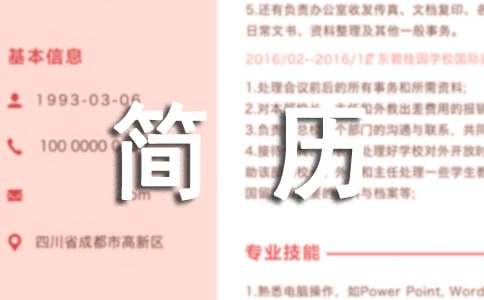 大学生个人英文求职简历模板1
  English Name :WIN
  Personal Data:
  Sex:male
  Age:23
  Height:183cm
  Weight:75kg
  Blood Type:B
  Arital Status:Single
  Native Place:Xingtai city of Hebei province , China
  Email:Mobil Tel:1xx
  Educational Background
  Major:Business Administration
  Graduate school:Hebei University
  Degree:Bachelor
  Education:
  20xx.9--20xx.6 HEBEI QIHUANGDAO EDUCATION COLLEGE Learning English
  20xx.9—20xx.09 , Hebei University . Learning company adminstration knowledge by myself mainly.
  Academic Main Courses:
  Management of Human Resources/Production andBusiness Administration Operation Management/Strategic Management/Quality Management/Marketing/International Trade/Principles of Management/Groundwork of Accounting/Economic Law and so on
  English Skills:
  Have a good command of both spoken and written English .
  Computer Abilities:
  Skilled in use of Windows / Office2000
  Self Assessment:
  a energetic, adaptable and able man, is cooperative . and honest to others
  Employment Experience :
  20xx/6--20xx/10 sale car accessories kits to abroad in WENZHOU QISHIJIAYIN CAR ACCESSORIES CO.,LTD
  20xx/10--20xx/3 General Manager Assistant
  assist the manager to open a good market to sale car accessories in Southeast Asia ,2 million RMB per month now,and it will be added month by month.
  Position Wanted:
  To obtain a challenging position as an assistant for a manage,especially in Human Resource Management/ Sale Part.
  大学生个人英文求职简历模板2
  Resume
  Personal Information:
  Full Name:Chuguoliuxuewang
  Gender:Male
  Nation:Korean
  Date of Birth:1981/03/30
  Phone:
  Education:Bachelor Major:Information Design
  Address:Tianchi Road Yanji, Jilin Province No. 169
  Foreign Language:Japanese,Korean,English
  E-mail:
  Job Intention:
  Desired occupation:Translator, International commissioner, Lecturer
  Desired industry:Trade / Export, Travel / Hotel, Education / Training
  Desired salary:Negotiable
  Desired location:Shanghai, Guangzhou, Shenzhen
  Expected induction day:Within 3 months
  Education Experience:
  20xx/04—20xx/03 Nishinippon institute of technology University (JAPAN)
  Major:Information Design
  Subject introduction:Basic programming, Project, 3D design, Information literacy
  Work Experience:
  20xx/12-20xx/03 Nestle corporation DaLian Branch-Sales Office Representative
  Profile:Nestle baby milk powder, coffee, Milo and other goods sales. Mainly responsible for the C-store sales
  20xx/06-20xx/05 Yanbian Daewoo(Korean) Hotel-Marketing Dept/Sales Office Representative
  Profile:The main room of the sales team responsible for travel, then embrace a variety of meetings, publicity and promotion of recreational facilities
  20xx/04—20xx/03 Transcosmos Co., Ltd.
  Profile:Responsible for system architecture, operation and maintenance.
  Others:
  I have had experience of studying and working in Japan. My character is Warm easy-going, live wave cheerful,with entrepreneurial spirit and teamwork, and also fluent in Japanese, Korean, English to communicate with others and exchange. Adaptable, responsive, positive, flexible, love innovation! In addition to also has a proficient in the use and operation of various software capabilities, I hope to find a match with my ability to work, such as translation, Trade Commissioner or the instructor, I believe that as long as the platform would have more space to show and develop their own!
【大学生个人英文求职简历模板】相关文章:
英文个人求职简历模板08-30
个人英文求职简历模板10-10
英文求职个人简历模板11-28
英文求职个人简历模板08-31
个人求职英文简历模板08-02
英文印度语个人求职简历模板09-29
英文版个人求职简历模板08-31
秘书个人求职英文简历模板08-08
大学生求职英文简历模板08-27