工艺工程师求职英文简历
  Basic information: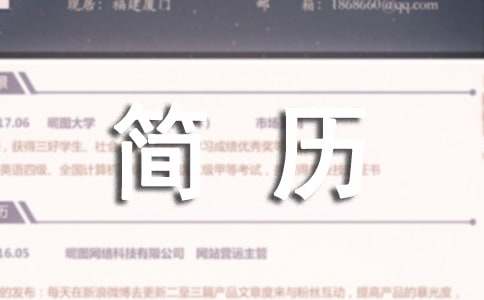 Name: Sun Haotian Gender: Male
  DOB: November 28, 1984 Height: 176cm
  Present address: East Hengshan Road, Fengman District, Jilin City Marital status: Single
  Graduation school: Yanbian University
  Major: Mechanical Layout, Manufacturing and Automation Tel.:*E-mail: *
  Position to be appointed: Process technology engineer Education and training:
  2004.8—2008.6, Jilin Province Yanbian University, majoring in mechanical layout (CET Band 4, Computer Test Grade 2)
  2001.8—2004.6, studied at the Jilin Province Lishu County Senior Middle School
  1998.8—2001.6, studied at the Jilin Province Lishu County Taiping Middle School
  Working experience:
  Aug. 2008—now, I have been working at the Jilin Automobile Co., Ltd. of FAW
  Introduction:
  I. Aug. 2008-Dec. 2008,I practiced in all production workshops to know about stamping, painting and welding and process technology of auto of fitting shop.
  II. Dec. 2008-Jan. 2010, I was engaged in production control in production department and promotion of lean production. I followed improvement experts who have made site improvement and guidance on Dong'an Auto Engine and Shulan General Machinery for half a month. I could master in elementary knowledge of lean production. I could grasp preparation methods of operation manual and essentials book and working procedure capacity list. And I was in charge of site 5S management of all workshops and daily improvement.
  III. Jan. 2010-now, I have been working as site engineer of fitting shop in charge of site technology management and maintenance of standard operation. I participated in change of circle time of workshop and establishment from circles such as workers, machine, stuff to project layout and made follow-up, implementation and confirmation of policies. I amended standard operations of 15 stations of fitting shop and verified the site operation, equipment security capacity, key points guarantee and personnel qualification and workpiece supply. I submitted 18 improvement requirements and constituted 10 measures which effectively enhanced availability rate of work area and process quality assurance ability.
  My summary:
  I am honest and faithful and smart. I have strong study ability and could bear hardships and have good group cooperation spirit. For contacting Japanese workers in daily work, I have learnt earnest and meticulous working ways from staff members of the Toyota. I form good work style and better knowledge structure.
【工艺工程师求职英文简历】相关文章:
工艺工程师英文简历03-10
工艺工程师求职简历范文03-30
电子工程师求职英文简历03-25
机械工艺工程师简历范文03-27
求职英文简历06-28
生产工艺求职简历范文03-31
物流工程师英文简历03-10
律师求职英文简历03-24
外贸求职英文简历03-14