外贸业务员的英文简历模板下载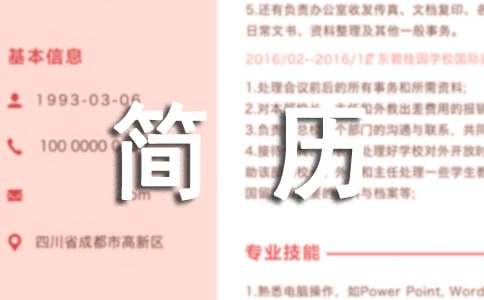 Name: Ms. Jiang
  Gender: Female
  Nationality: the Han nationality
  Political affiliation: Party members
  Date of birth: 1987 05 month 13 days
  Mouth: Quzhou City
  Marital status: Unmarried
  Education: Undergraduate
  University one is graduated from: Southwest Jiao Tong University
  Graduation time: 2009 07
  Major: English
  Foreign language: English (TEM-4)
  Work experience: Intern / fresh
  Contact: job search intention
  Job type: full time
  The nature of the unit: no limit
  Desired industry:
  Desired position: English, foreign trade manager / Supervisor / Executive, administrative supervisor / Specialist / Assistant, assistant general manager, teacher
  Work location: Hangzhou City, Ningbo City
  Expected salary: 2000-4000
  Professional skills
  Proficiency in office software
  Written and oral English level Four certificate
  English level eight certificate examination
  The university English level six certificate
  The Japanese language proficiency test level three certificate
  Honors and Awards
  In 2006 07, won the foreign language school of Tourism Promotion Advisory Group gold medal contest.
  The second semester of 2007-2008 school year, the school three scholarship.
  First semester of 2008-2009 school year, the school three scholarship.
  The college dormitory culture has won the title of the university dormitory and civilized bedroom ".
  Self evaluation
  I study hard, diligent and conscientious; can bear hardships and stand hard work, not afraid of setbacks, there is an optimistic attitude towards life; self motivated, work carefully, have patience and responsibility. Love the collective, all to the collective interests as the center;
  Good team spirit and communication skills; amiable and easy of approach, considerate, honest and reliable, is a trusted partner.
  Education experience
  In 2005 09 months --2009 years 07 months of English in Southwest Jiao Tong University
  Learning English, reading, writing, listening, oral English, and English speaking countries, American literature, translation course; basic computer, mathematics, statistics (Wen Ke)......
  Work experience
  In 2009 08 months -09 months, long Zhejiang import and export trade limited company foreign trade salesman
  Since 2009 09 months, Hangzhou property into science and technology limited company foreign trade salesman
【外贸业务员的英文简历模板下载】相关文章:
外贸业务员英文简历下载04-01
最新外贸英文简历模板下载03-06
外贸跟单英文简历模板下载04-10
外贸业务员个人简历模板下载03-25
标准外贸业务员英文简历模板07-27
2016外贸业务员个人英文简历模板07-27
外贸业务员简历表格下载04-03
应聘外贸业务员英文简历07-13
外贸管理简历模板下载03-23