机电一体化专业英文简历模板
  Name: Mr. Pang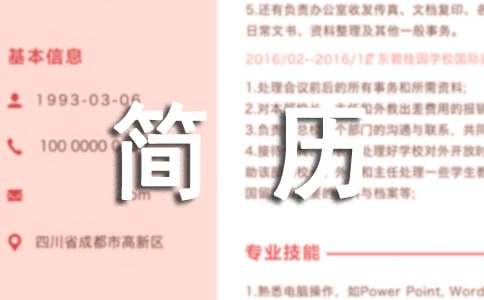 Sex: Male
  Date of Birth: September 17, 1985
  Height: 171 cm marital status: unmarried
  Account location: Xi'an, Shaanxi
  Location now: Guangdong Zhongshan Torch Development Zone
  Personal strengths: singing \ painting \ Internet
  Language ability
  Mandarin: excellent grasp dialect: Shaanxi ability: excellent
  English: General Rating: 1
  Other languages: capacity: Rating:
  Education or training experience
  Graduate institutions: the University of Xi'an, the highest trade union education: college
  Specialties: Electrical and Mechanical Technology
  Time to local schools / institutions of professional qualification certificate No. 2004.9 - 2008.1 Xi'an University of Electronic Commerce trade union \ Electrical Technology College
  Work experience
  2007.5 - 2008.5 Baofeng Die Co., Ltd. (wholly foreign-owned) jobs: Operator separation reasons: work home Description: the environment is better to do .......... cnc machine parade 2006.5 - 2007.5 Guangzhou more Feng Electronics Co., Ltd. (wholly foreign-owned) jobs: Technician reasons for leaving: Job Description: also ....
  Job intentions
  Job search intention: Mechatronics qc. Seized goods business with a single job-location: Zhongshan, Zhongshan, Zhongshan
  Job Time :2008-8-5 can be reported for duty time: any time
  Work experience: more than a year wage demands :1500-3500
  Nature of work: Full-time
  Self-evaluation
  1. Response to sharp and good at analysis; has a strong team spirit, able to travel.
  2. Be able to speak fluent Putonghua, the language expression ability, can be hard, good communication.
  3. With more than 1 year experience in cnc machine CNC parade; know how to use basic test instruments.
  I hope that I can be your company the opportunity, I will not live up to the expectations of companies.
  Contact
  Tel:
【机电一体化专业英文简历模板】相关文章:
机电一体化英文简历下载06-28
机电英文简历模板04-08
机电一体化专业简历表格03-28
机电一体化英文简历自我介绍范文07-17
机电一体化专业应届生求职简历封面03-25
机电一体化求职信模板5篇04-19
机电一体化求职信模板7篇04-05
管理专业英文简历模板07-20
机械专业英文简历模板03-01