大学生英文简历模板
  大学生们如何写出一份优秀的精彩的'英文英文简历呢?来看看模板吧。下面是小编收集整理的大学生英文简历模板,欢迎阅读借鉴。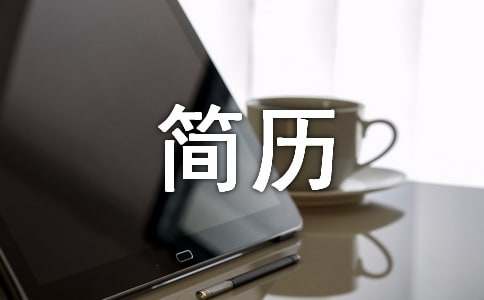 大学生英文简历模板一
  Name:Guan Jian Wei English Name :WIN
  Personal Data:
  Sex:male Age:23 Height: 183 cm Weight: 75kg Blood Type: B
  Arital Status :Single Native Place: Xingtai city of Hebei province , China
  Email:win888jianwei@126.com. Mobil Tel:13736335583
  Educational Background
  Major: Business Administration
  Graduate school: Hebei University
  Degree: Bachelor
  Education:
  2002.9--2004.6 HEBEI QIHUANGDAO EDUCATION COLLEGE Learning english
  20010.9—2005.09 , Hebei University . Learning company adminstration knowledge by myself mainly.
  Academic Main Courses:
  Management of Human Resources/Production andBusiness Administration Operation Management/Strategic Management/Quality Management/Marketing/International Trade/Principles of Management/Groundwork of Accounting/Economic Law and so on
  English Skills:
  Have a good command of both spoken and written English.
  Computer Abilities:
  Skilled in use of Windows / Office2000
  Self Assessment:
  a energetic, adaptable and able man, is cooperative . and honest to others
  Employment Experience :
  2004/6--2004/10 sale car accessories kits to abroad in WENZHOU QISHIJIAYIN CAR ACCESSORIES CO.,LTD
  2004/10--2005/3 General Manager Assistant
  assist the manager to open a good market to sale car accessories in Southeast Asia ,2 million RMB per month now,and it will be added month by month.
  Position Wanted:
  To obtain a challenging position as an assistant for a manage,especially in Human Resource Management/ Sale Part.
  大学生英文简历模板二
  Designer Resume Template   Charles Lucas
  266 Coldspring Rd.
  Atlanta, GA 31196
  (271) 555-8217
  __________________
  Objective
  To obtain a position with a strong, forward thinking, progressive company were I can fully utilize my knowledge and experience as a designer.
  Notable Achievements
  1997: Awarded Special Mention Prize. "ICSID/ Compiegne Industrial Design Award", France, for co-design of a "Portable Office Project".
  Guest Lecturer, Industrial Design, University of Georgia.
  Relevant Skills
  Certified in CAD and in Architectural Drafting.
  Human Factor for product design.
  Human computer interface design.
  CDRS(Pro/Designer), Pro/E, TDI, AutoCAD, Form Z, Strata 3D, Infini-D, Corel Draw, Adobe Photoshop, QuarkXPress, Adobe Illustrator, HyperCard, Persuasion, MM Director.
  Employment History
  Harris Technologies, Atlanta, GA
  Product Designer, 1998 - Present
  Developed critical transmissions, performance monitoring, and diagnostics firmware (C, ASM) for broadband hybrid fiber/coax telecommunications network (TDMA receiver/transmitter). Documented interface/design and maintained MR ("modification request") handling/response.
  A & S Industries, Augusta, GA
  Manager, Telephone Products Division / Manager, Advanced Product Design, 1994 - 1998
  Hired as manager of Telephone Products, and later promoted to manager of Advanced Product Design, I was responsible for all new product design. Provided key technology enhancements to multiple product lines. Designed full product line including machines rated superior to all others by Consumer Reports, helping to increase company sales from $42.3 to $71.8M in one year.
  Education
  B.A. Design, 1994
  University of Vermont, Burlington, VT
【大学生英文简历模板】相关文章:
英文简历范文模板「大学生」10-25
大学生英文简历模板介绍10-29
大学生实习英文简历模板08-31
大学生求职英文简历模板08-27
大学生毕业英文简历模板08-07
优秀大学生英文简历模板07-21
大学生求职英文简历模板07-26
大学生英文简历模板范文07-12
大学生应聘英文简历模板09-24