个人简历模板英文版
  简历是用于应聘的书面交流材料,它向未来的雇主表明自己拥有能够满足特定工作要求的技能、态度、资质和自信。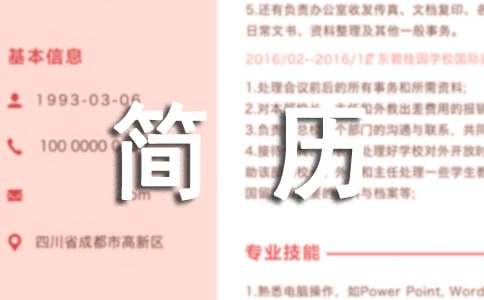 个人简历模板英文版一
  My name is HIN RESUME. I was born on August 25, 1985, in Hengyang, Hunan Province. In 1990 I graduated from Harbin Technical Institute where I majored in electronic engineering, and then I was assigned to work in an electronic apparatus factory as a technician for nine years. During this period I gained some practical experience in designing and manufacturing several varieties of electronic apparatus. In the fall of 1983, I was admitted to the Department of Mathematics, Zhejiang University as a graduate student. Six months before I took the examinations, I started to study higher algebra and analysis by myself in my leisure time. Since the enrollment I have completed all the courses required by the graduate program, making straight A both in my undergraduate and graduate courses. My performance in the graduate seminars of Differential Calculus and Mathematical and Physical Formulas shows that I have got a good grasp of the fundamentals of mathematics.
  I have been studying English intensively for six months. I have attended an English class taught by an American professor. Ms. Kathy Swift, from the City University of New York. According to her, within a few weeks of my arrival abroad, I should have no difficulty either in functioning on a daily basis or in participating fully in graduate studies.
  Presently I am interested in applied mathematics and later I would like to do research in control theory. If I am accepted as a graduate student. I plan to stay for 2-5 years pursuing a Ph.d. degree. I am sure I would make progress in my future career.
  个人简历模板英文版二
  Name:***
  Gender:**
  Objective:To exercise work in company
  Time:XX.02.01—XX.03.15
  Education:XX.07—now Studying in Commercial College in Guangxi University for Nationalities, major is International Economic and Trade;
  XX.06—now Studying Thai language in Bansomdejchaopraya Rajabhat University.
  Personal: Nationalities: Chinese
  Age: **
  Address: **********
  Tel: *************
  E-mail:*************
  Language: Thai Language: Excellence English: well
  Computer: WindowXX, Window OfficeXX, Photoshop CS etc.
  Activities:
  ★Writing, reading ,photographing;
  ★liking play football, tennis, ping-pong etc;
  ★Be interested in research and survey, had ever organized a team and gone to several villages to survey about the Building a new socialist countryside twice in Wuming County, Guangxi Province.
  Experience:
  ★XX.09-XX.07 I was a director of the Club of Computer and Internet, was an excellence reporter in university, and had ever published more than 40 pieces of news and other articles thought websites and newspapers of Guangxi University for Nationalities;
  ★XX.07-XX.09 Once organized a team went to several villages twice in summer holiday and awarded "Provincial Excellent Person" of "culture, science and sanity" summer social practice sponsored by junior and senior college students in Guangxi Province ;
  ★XX.03-XX.03 Once was the chief of the reporter team in Commercial College of Guangxi University for Nationalities;
  ★XX.03-XX.06 Once joined the 10th National Challenge Cup Competition for Academic and Scientific Achievements among University Students, and awarded the Second Class in Guangxi Province.
【个人简历模板英文版】相关文章:
英文版个人简历模板范本09-27
关于英文版个人简历模板09-02
英文版优秀个人简历模板08-23
英文版个人简历模板「推荐」08-23
英文版的个人简历模板10-20
英文版的个人简历模板01-19
英文版个人简历模板下载07-05
英文版个人简历模板表格07-05
优秀英文版个人简历模板07-03