英文简历模板(通用10篇)
  日子如同白驹过隙,许多朋友又将开始寻求新的工作机会,这时候,最关键的简历怎么能落下!你知道简历要如何写吗?下面是小编整理的英文简历模板,欢迎大家借鉴与参考,希望对大家有所帮助。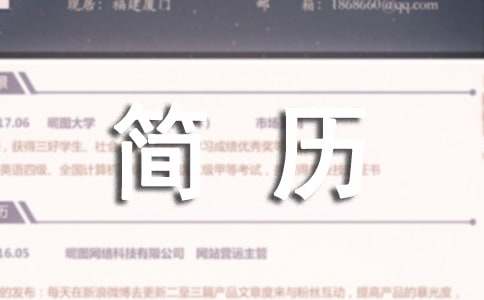 英文简历 1
  Self-evaluation
  Dignified, prudent, responsible care; one-year working experience in the future, the flexibility to adapt to different environment, a good collaboration.
  Personal Information
  Name: Linyuan Sex: Female Age: 24 years old
  E-mail: XXXXXXXXXX Tel: XXXXXXX
  Address: XXX Road, Haidian District, Beijing Zip code XXX No.: XXXXXX
  Work experience
  August 20xx - the company now XXXX future scientific and technical information clerks
  Duties:
  Responsible for a variety of business arrangements for the coordination of activities;
  Group is responsible for answering and forwarding calls, send and receive fax, document finishing, custody;
  Office supplies procurement and management, office equipment maintenance and repair;
  Air ticket booking business for the company, document printing, and some logistics;
  Many independent organizations, the organization of major conferences;
  Visitors visiting the reception work;
  Educational background
  September 1997 - July 20xx Beijing University of Science and Technology Computer Application Specialist
  Professional expertise and skills
  Proficiency in computers, have Office20xx and other commonly used office software, typing speed and Internet experience;
  Writing text, and can be used to draft the company documents;
  Work with strong organizational skills, ability to work independently;
  Cheerful personality, Putonghua standard, can better handle the relationship with others;
  A simple communication skills in English.
  Wage expectations :1500-20xx Yuan / month
  英文简历 2
  Name: XXX Sex: Female
  Ethnic: Chinese political face: the masses
  Academic qualifications (degree): college Profession: secretary
  Phone: 12345678 mobile phone: 139
  Contact Address: XX Street, Chaoyang District, Beijing on the 10th Zip: 100001
  Email Address: pager: 010 -- 1234
  Educational background
  Graduate institutions:
  Secretary of Beijing Institute of 1997.9 - 1999.7 secretarial profession
  Specialties:: Secretary of Practice, Theory and Practice Conference, document writing, document processing, archival science, office coordination, computer and modern office equipment, the basic theory, finance, financial, tax, legal, business English, computer English input, editing, typesetting, tabulation, shorthand, calligraphy, English typing and so on.
  Other: Other training
  Beijing have received training in etiquette school system
  Proficiency in office software, office and other modern office equipment, typing proficiency
  Day-to-day communication can be conducted in English, have good listening and speaking ability.
  Work experience
  1999.8 --- XX Import and Export Corporation has front reception and secretarial
  Front desk reception work and office administrative work, a serious and responsible work has been leading praise and colleagues
  Profile
  Character I cheerful, generous, have a good knowledge of etiquette and hospitality work experience, skills, flexibility, quick response, flexibility in handling emergencies. I think that represents the front desk reception work the companys image, although the ordinary but very important job, so to do a good job in the future work required to receive a strong sense of responsibility. I am willing to work with your co-development and progress.
  Please give me a chance, I will also brilliant luster you!
  I character
  Cheerful, modest, self-discipline, self-confidence (based on the persons circumstances).
  Another: the most important thing is the ability, I believe that your company will feel that I am a suitable candidate for this position!
  Look forward to working with your interviews!
  英文简历 3
  Name: Gender: female
  Date of birth: 1 January 1988
  Height: 164 cm
  Native: yichang
  Residence: yichang
  Ethnic composition: han
  Political outlook: member
  Job types: fresh graduates
  Graduate school: hubei university of Chinese medicine
  Professional: clinical medicine and medical technology
  Mobile phone:
  2007 September 2010 to July enrolled in hubei university of Chinese medicine
  Work practice experience
  2009.7.1-2010.03.30 practice in yichang second peoples hospital.
  During the internship, successively in heart medicine, digestion, pediatric, endocrine, breathing, kidney inside, outside general, the brain outside, bone, such as maternity department practice. After nearly a year of serious practice, accumulated a lot of clinical experience,
  Self assessment
  My firm faith, willpower, strong, honest sincere, can bear hardships and stand hard work, calm and steady personality, steadfast, have a strong sense of responsibility and motivation. The work of conscientious and responsible, things careful meticulous, consider the comprehensive thorough; Can respect teachers, unite classmates, and a strong collective sense of honor; Positive attitude to life, optimistic upward, pay attention to a dull boy; To own request strictly, dare to play dare spelling, and improve their self-cultivation and virtue, wisdom, body, and other comprehensive quality.
  英文简历 4
  Chinese name: Zhao Yhong English name: Erin
  Date of birth: May, 30th ,1985
  Nationality: Chinese
  Present Address: Hubei Vocational-technical College, Xiaogan, Hubei, China.
  Phone Number: 15907298057
  E-mail: yahong123353@163.com
  Education: Hubei Vocational-technical College, Xiaogan, Hubei
  Major: Business English
  Work Experience: Teach English in our junior school in 2006
  Cereificates:CET-4, CET-6 Computer 1, Secretary-4
  Special skills: using the computer, collect information, ability to get alone well with people. Commom language
  Reference: LiaoXinjia Hubei Vocational-technical College, Xiaogan
  Telephone: 13995884763
  Email:Liaoxj2003@yahoo.com.cn
  LiChentao HubeiVocational-technicalCollege,Xiaogan Telephone: 15826839888
  Ms.Sherman Hubei Vocational-technical College,Xiaogan
  Telephone: 13972685350
  E-mail: dorathy sherman@hot mail.com
  英文简历 5
  OBJECTIVE
  E-Business Correlation.Intelligent graduate ready to contribute my education and management skills in a position er Relationship Management, Supply Chain Management, Netmunication abillities.
  Sales Manager, UFIDA ERP Sand Table Contest,WuHan,12/07-1/08
  In charge of market,product demand and price analysis,summarize the analytical results.
  Try to unite and coordinate e innovations.
  Vocational Training,HUBEI BAIDU SERVICE CENTER,WuHan,9/19/08-9/21/08
  Predominate the principle of Baidu price-competition-ranks,and knopany.
  Learn about sale skills,knoe personal feelings.
  PERSONAL SKILLS
  MAJOR SKILLS:
  IBM University Program completed subjects:DB2 Fundamentals&DB2 SQL Workshop.
  IBM University Program completed subjects:HTML&XHTML,XML,CSS,JSP,JAVA,J2EE.
  NCRE-II of language C,NCRE-III of net applications,rich experience of Blog,BBS and Newsgroup.
  QUALITY SKILLS:
  Good physical constitution, can work under pressure and prefer to facing challenge.
  Work conscientiously,have a stronger enterprising spirit, is good at linking up with the person.
  Good at active learning,like to contact new things, dare to break old paths.
  英文简历 6
  Dear Sir/Madam:
  Now and then corporations send out feelers for just the right type of creative
  person. This person must fit very specific criteria. Usually, after all is said and done, the corporation wants a business person who can manage, create and communicate. A seasoned professional who"s been around for a while.
  If you"ve been looking for this rare combination of business savvy and design expertise, my background might interest you:
  Ten years of working experience. Solid background fwin the management of creative up-and-comers.
  Know new technologies that show instant profit, such as CAD/CAM.
  This is but a brief summary of my abilities. And there is much, much more to share.I feel I have strong marketable skills in which you would be interested. Please contact me if you would like to hear and see more.
  With many thanks.
  英文简历 7
  resume
  name:jack lee
  gender:male
  age : 21
  state of health:fine
  native place:shandong province
  hukou:harbin
  years of posite materials, adhesive and coating, polymer monography, polymer addition agent, specialized english, etc.
  language
  english level: have a good command of both spoken and puter ability the common office soft northeast forestry university (nefu). this is not a very famous university, but i have been making great efforts for enriching and perfecting myself all the time. i acknoing career. and, i pany. and i hope you could give me an opportunity of intervieing Petrochemical Mineral Ltd .At the beginning I mainly charged of analysis products through chemic methods and reseached nee producing problems.2 years later I changed to international trade,purchased producing materials ers by telephone and E-mail,dealed e relative document, etc.
  Special Skill:
  1. Kno you soon.
  Best Regards
  Vivian
  英文简历 8
  Resume number: 455028602 Updating date: 20xx-3-25 17:20:33
  Name: Nationality: China (Mainland)
  Current Place: Dongguan Height/Weight: 156 cm kg
  Marital Status: married Age: 37 years
  Career Objective
  Application type: Jobseeker
  Preferred job title: Finance Manager: CFO 、 Finance Director: accountant 、 Accountant: managermant
  Working life: 14 Title: Middle title
  Job type: Full time Expected Start date: In two months
  Expected salary: ¥8,000--¥12,000 Preferred working place: Dongguan
  Work experience
  Companys name: Kou Ryou enterprise corp.Begin and end date: 20xx-10-
  Enterprise nature: OthersIndustry: Internet/E-commerce
  Job Title: CFO
  Job description: HR ,customer service,managerment account
  ·Responsible for the accurate and timely processing of accounts payable/receivable, payroll,insurance reports,and sales tax/payroll tax reporting.
  ·Performing job costing ,account analysis,and general ledger management using Lotus and Excel.
  Reasons for leaving:
  Educational Background
  Name of School: NanChang university
  Highest Degree: Associate Date of Graduation: 1996-07-01
  Name of Major 1: account & statistics Name of Major 2:
  Education experience:
  Start date End date Education organization Majors Certificate Certificate No
  20xx-10 20xx-05 self-sudy Chinese accountant M technical
  20xx-12 self-sudy ACCA the first phase
  Language Ability
  Foreign Language: English Level: normal
  Language ability: Cantonese
  Chinese level: perfect Cantonese Level: perfect
  Relevant skills and abilities
  seasoned
  ·More than 12 years in accounting.
  ·Training and directing staff in accounting activities and be an expert in Lotus system.
  ·Planning and conducting audits and variance analysis ,processing payroll and payroll tax reports and files,and maintaining /updating accurate inventories.
  Self-recommendation letter
  bookish
  ·Assisted in budget forecasting.
  ·Developed standard cost data and variance analyses.
  ·Reviewed capital expenditures and coordinated /reconciled physical inventories.
  英文简历 9
  xxx, xxx ST,
  xxx, xx, xxxxx
  (xxx) xxxxxxxxxxx
  xxx@yjbys.com
  Objective
  Willing to work as a Computer Programmer in the well known IT industry.
  Education
  B.Tech/B.E. (Computers) from XYZ University, xxx in 2012
  Summary of Skills and Experience
  I am an engineering graduate and have knowledge of implementing software programming skills in designing & developing systems.
  Pivotal in C, C++, SQl, Java, HTML, MS Access and Photoshop with exposure in Windows.
  Computer Skills
  Programming Languages: C, C++, SQL, Java, J2EE (Servlet, JDBC, JSP)
  Databases tools: Oracle, MS Access
  Operating Systems: Windows
  Other Skills: Photoshop, CSS, HTML, Flash
  Additional Details
  Academic Projects
  Banking System using C++
  Duration: Jan 13 to May 13
  Environment: C++
  Description: Designed and developed banking system for bank involving basic transactions such as Debiting or Crediting accounts, listing account information of customers, balancing information, editing and deleting accounts etc.
  英文简历 10
  Name: - Nationality: Chinese
  Personal photos
  Current location: Guangzhou National: Han
  Exit and Entry: Guangdong Province is: 170 cm 58 kg
  Marital Status: Single Age: 25 years old
  Training Certification: integrity badge:
  Job search intention and work experience
  Talent type: general job
  Position: Hotel / Travel logistics categories: high-level managers in the categories of customer service operation / management
  Work Experience: 1 Title: No Title
  Job type: full-time can be reported for duty - at any time
  Monthly requirements: 1500 - 20xx hope that the working area: Guangzhou, Dongguan, Huizhou
  Personal experience: 20xx.9 - 20xx.6 Department of the Student Union work (former Director-General, the Propaganda Department, Deputy Minister)
  20xx.5 - 20xx.7 "Trust" (Kecun Station) promotional staff
  20xx - 20xx (Golden Week) Guangdong Nanhu International Travel Service Department reception staff, part-time tour guides
  20xx.7 - 20xx.8 travel agencies in Guangdong Province intern employees, part-time tour guides
  20xx.9 - 20xx.11 Huizhou Daya Bay Resort hotel rooms and the Department of the South China Sea, interns
  -20xx.12 After graduation in 20xx, Guangzhou, Guangzhou Daily Newspaper Group newspapers in charge of the companys business
【英文简历】相关文章:
经典英文简历02-09
英文简历07-28
英文简历模板08-12
英文简历范文03-16
关于英文简历12-28
英文简历技巧08-26
英文简历模板07-15
DIY英文简历04-12
英文简历模板08-15
英文简历自我评价08-27