免费英文简历模板
  想要求职成功掌握求职技巧提高个人简历通过率的唯一方法。因此在打造个人简历时,要知道如何合理使用技巧。以下是免费英文简历模板,欢迎阅读。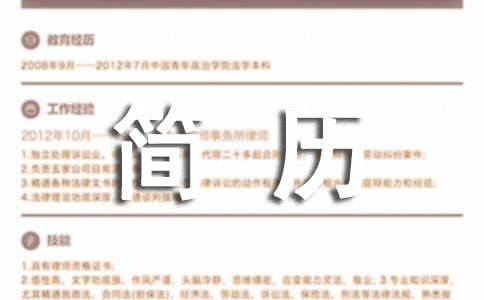 Chinese Name:XXX
  English Name:Cherry
  Sex: Female
  Born: 01/02/89
  University: Hefei University of Technology
  Major: English
  Address: 193#, Tunxi Road, Hefei City, Anhui Province.
  Zip Code: 230009
  Telephone: XXXX
  Job Objective:Business Assistant(Beijing)
  Education:
  20**-20** Hefei University of Technology, School of Foreign Language.
  Graduating in July with a BA degree in English.
  Fields of study include: intensive reading, extensive reading, English listening, English speaking, English writing, British literature, American literature, English public speaking, English language teaching, C-E T, E-C T, E-business, English for international business communication, International trade and commerce, etc.
  20**-20** HebeiZaoqiang Middle School.
  School Activities:
  20**-20** Class monitor.
  20**-20** Member of the School Union.
  20**-20** Member of the Youth Volunteer Union.
  20**-20** Class Monitor.
  Social Practice:
  20**.7-20**.10 Waitress in The Northeast Restaurant.
  20**.4-20**.6Assistant in The Third Canteen, Hefei University of
  Technology.
  20**.5-20**.9 Waitress in Hefei Yazhi Restaurant.
  20**.7-20**.10 Teacher in School of Foreign Language, Hefei
  University of Technology.
  English And Computer Skills:
  English:TEM4
  Computer: Skilled in use of Windows / Office2000.
  Awards:
  Outstanding League Cadres.
  Advanced Individual of Psychological work
  Outstanding Volunteer.
  Advanced Class.
  Self AssessmentAnd Hobbies:
  a energetic, adaptable, easygoingand able girl,communicate with others well and a team building player,
  to obtain a challenging and awarding position.
【免费英文简历模板】相关文章:
2.英文简历免费模板