金融专业英文简历模板范文
  关于金融专业英文简历的准备部分,首先就是对自我能力的认识,也即是在求职中的个人所具有的优缺点。众所周知的在个人简历中基本上的只能写的自己的优点,于是很多人就只重视优点部分的.人总结。要知道每个人都会有一些优点以及缺点,对自己的缺点认识也是写个人简历的基础。认识到缺点也是也就有补之不足之处的空间。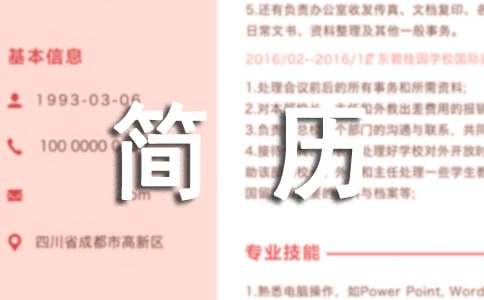 金融专业英文简历模板范文篇一:
  yjbys
  Nationality:China (Mainland)
  Current Place:Guangzhou
  Height/Weight:160 cm?58 kg
  Marital Status:SingleAge:32 years
  Career Objective
  Application type:Jobseeker
  Preferred job title:Finance Manager: Finance supervisor 、 Accountant: 、 Finance/Audit/Tax:
  Working life:10Title:No title
  Job type:Full timeExpected Start date:In a week
  Expected salary:¥5,000--¥8,000Preferred working place:Guangzhou Dongguan Shenzhen
  Work experience
  Company's name:1.Jade and company PTE LTD Guangzhou Representative OfficeBegin and end date: 2012-01-2012-04
  Enterprise nature:Soly foreign funded enterprisesIndustry: Professional Services (Consulting, Translation, Search)
  Job Title: Finance & admin manager
  Job description: 1.Handle all finance role and HR daily job. Provide the professional advice to the client.
  2.Cash control between 3 entities and tax layout for the company.
  3.Complete the annual audit reports and tax declares report.
  4.Lead the team to improve the finance function.
  Reasons for leaving:
  Company's name:H.B. Fuller (China) Adhesive Co.Begin and end date: 2006-12-2012-01
  Enterprise nature:Sino-foreign joint venturesIndustry: Petroleum/Chemical Industry/Minerals/Geology
  Job Title: Credit control officer and senior GL accountant
  Job description: 1. Responsible for the accounting reporting, GL, credit control and internal audit. Attend the project implement.
  2.Develop and improve the daily operation process, including expenses control, credit control, monthly closing and corporate reports, account reconciliation.
  3. Implement the SOX internal procedure and risk control points 404.
  4. Monthly OUTLOOK and annual budget prepare. Compare OUTLOOK between budget and actual and explain the variance.
  5. Co-ordinate with annual and quarterly auditor checking. Co-ordinate with various dept especial of operation and customer service dept.
  6. Achieve the credit control goal (Customer manage, Credit policy implement, DSO decrease)。
  7. Keep good relationship with government tax bureau bank etc.
  8.Familiar with the reporting system as Hyperion,HFM and ERP system, Advanced Excel skill.
  Reasons for leaving:
  Company's name:Reckitt BenckiserBegin and end date: 2000-08-2006-11
  Enterprise nature:Sino-foreign joint venturesIndustry: Petroleum/Chemical Industry/Minerals/Geology
  Job Title: AP specialist and treasury control
  Job description: 1. Prepare the monthly payment plan, audit and approval all payment require.
  2. Prepare the AP process and implement succeed include the E process.
  3. Attend the project "CTS" (Customer Trade Spend system) implement and data analysis.
  4. Cash flow control. Issued the bank loan depend on the payment plan and cash flow.
  5. Keep very good relationship with bank and government and setup the E project of the company.
  6. Cost variance analysis (PPV) and allocation. Work order transfer and allocation. FG and RM provision scheme the stock take quarterly.
  7.Standard cost maintains and BOM maintain.
  Reasons for leaving:
  Company's name:Delphi Packard electrical (GZ) Co. LtdBegin and end date: 1997-08-2000-07
  Enterprise nature:Sino-foreign joint venturesIndustry: Communication/Telecom/Network Equipment
  Job Title: Assistant of GL supervisor and internal auditor
  Job description: 1. Manage the internal audit file filing and advice the suggestion.
  2. Book the voucher and account reconcile.
  3. Prepare the direct / indirect material payment application
  Reasons for leaving:
  Educational Background
  Name of School:Jiangxi Financial university
  Highest Degree:BachelorDate of Graduation:2005-07-01
  Name of Major 1:FinancialName of Major 2:Accounting
  Education experience:Start dateEnd dateEducation organizationMajorsCertificateCertificate No
  1998-101998-10Qinghua university Autocar systemThe component of the automotive
  2007-052007-05Guangzhou Key-Sun credit consulting co.ltdAR collect & credit manage
  2007-072007-09Guangzhou Key-Sun credit consulting Co.Ltd.Credit manageCredit manager qualification certificate072001800013
  2008-032008-03Guangzhou R&I Accounting Consulting Co,Ltd.Analysis of Financial statements and tip
  2008-072008-07Guangzhou R&I Accounting Consulting Co,Ltd.Project management
  2008-102008-10Guangzhou R&I Accounting Consulting Co,Ltd.Analysis of Differences between the New
  Language Ability
  Foreign Language:EnglishLevel:good
  Chinese level:perfectCantonese Level:perfect
  Relevant skills and abilities
  1.At least 10 years working experience in finance and accounting. Have knowledge & experience in financial planning, internal control, expenses control and administration.
  2.Familiar with internal control and finance process, improve the process and implement.3.Familiar with the US GAAP
  Self-recommendation letter
  Achievements: Credit control
  1.The DSO from 85 days decreased to 78 days for Greater China during 2007
  2.The recovery collect TTL CNY630k and the bad debt % decreased 0.6% during 2007
  3.Prepare and implement the new credit control policy
  Reporting & GL analysis
  1.Analysis the points that which are impacted the operation income
  2.Reduced the monthly closing 2 days that management team have enough time regulatory the ending P&L result
  3.Improved the GL process efficiency saving time and recombine the reconcile format
  4.SOX control training and implement。Go through the SOX audit.
  金融专业英文简历模板范文篇二:
  yjbys
  Sex: Female
  National: Han
  Political outlook: Party members
  Date of Birth: December 1986
  Account: Hangzhou
  Marital status: unmarried
  Education: Undergraduate
  Graduate institutions: Zhejiang Institute of Finance and Economics
  Graduation Time: June 2012
  Specialties: Finance
  Language: English (CET-4)
  Computer level: skilled
  Work Experience: Internship / year
  Contact: 15999999999
  Job intentions
  Work type: Full-time
  Nature of units: open
  Expectations of the industry: the financial sector (investment, insurance, securities, banking, funds), training institutions, education, scientific research institutes
  Expect jobs: Financial / economic
  Working Location: Hangzhou
  Expectations of a monthly salary: Open / Negotiable
  Education
  Zhejiang Institute of Finance and Economics 2005.10-2012.6 Western finance economics, finance, international finance, financial markets, professional courses, etc.
  Work experience
  2006.7-2006.8 Hangzhou Industrial and Commercial Bank of China assistant governor finishing the first branch of curriculum vitae of staff; input forms, data and other information; collating information database
  2006.9-2006.12 Hangzhou City drop-in center on the mathematics, "China Cup" competition math classes math teacher, "China Cup" competition counseling
  West Branch of Zhejiang 2006.9-2006.12 bank teller window填制public bills, bills; responsible to a single work; audit check
  Performance
  Topic "On the appreciation of the renminbi on the impact of real estate in Zhejiang Province - the situation in contrast to foreign countries to make constructive opinions" on December 15, 2007 finished.
  Self-evaluation
  I learn the correct attitude, outstanding achievements, has won a scholarship. While studying at the school served as a Minister of the Department of Planning, the squad leader, Mission branch office, etc., work earnestly, to highlight the ability to work several times as colonel, a class of outstanding student leaders, organized a "flea market", New Year party , class gatherings, such as Mission Day, the teachers and students alike. I am thinking of progress and positive, in the college to become a member of the Communist Party of China. With self-confidence, humor, humility, enthusiasm, dedication of the personality, strong sense of teamwork and communication skills with people and organization and coordination capacity.
【金融专业英文简历模板范文】相关文章: