英文版个人简历
  其实英文版简历的书写远远没有人们想象中的.那么复杂,只要我们找到根源尔后对症下药,即可有效的解决求职者在职场中所遭遇的各类问题。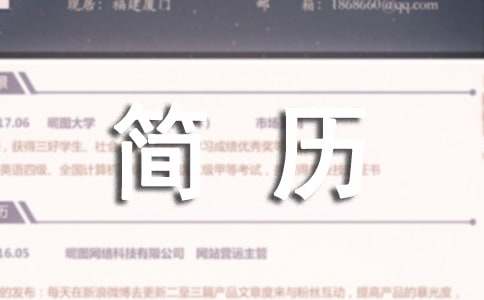 英文版个人简历篇一:
  Personal Details
  yjbys
  Sex: Male
  National: Han
  Date of Birth: May 1986
  Account: Hangzhou
  Marital status: unmarried
  Education: Undergraduate
  Graduate institutions: Hubei Institute for Nationalities
  Graduation Time: June 2009
  Specialties: Japanese
  Language: Japanese (professional)
  Computer level: skilled
  Work Experience: Internship / year
  Contact:
  Job intentions
  Work type: Full-time
  Nature of units: open
  Expectations of the industry: trade, import and export
  Expectations of the post: Japanese, trade / logistics / procurement / transportation, production, sales
  Working Location: Hangzhou
  Expectations of a monthly salary: Open / Negotiable
  Education
  2002 -2005 West Lake in Hangzhou High School in July
  In 2005 -2009 Hubei Institute for Nationalities in June in Japanese
  Work experience
  July 2008 -2009 In January Zhejiang Textile Import & Export Co., Ltd. internship stars
  Self-evaluation
  Received national scholarships
  There is the arrangement, such as initiatives to help parents with household chores, and parents talk regularly to exchange the feelings of the parents work on the issue of life to free a timely manner.
  Have a stronger organizational capacity, the activities of planning and public relations capacity, such as the Communist Youth League organizations, the city has several large-scale activities (such as: concern about the children left, the contribution snowstorm performance, etc.)
  Application of strong language and expression, such as planning the work of the Youth League briefing, magazine editor-in-chief of the hospital "My University" at major public events and have spoken to preside over regular meeting of Communist Youth League.
  The discovery of strong issues and problem-solving skills, and be good at thinking, for example, from the reality of the Communist Youth League in time to amend to delete ineffective system, added some new system in line with the actual work.
  Responsible, motivated, self-confidence, such as the semester you take the initiative to participate in the hospital on the deputy secretary of the Communist Youth League campaign, and the success of the election.
  Passion to work, for example, from freshman to junior has served as student leaders.
  Innovation, such as the "open, service-oriented, innovative, institutionalization, standardization, information, publicity, talents, culture" of the Communist Youth League to develop new ideas.
  Serious efforts to learn, the outstanding, if the national scholarships and fellowships for three consecutive years by the colonel. In addition, there is a strong team spirit, happy to learn from others, have a stronger ability to deal with interpersonal relationships.
  英文版个人简历篇二:
  Personal Details
  yjbys
  Nationality:China (Mainland)
  Current Place:TianheHeight/Weight:162 cm?45 kg
  Marital Status:SingleAge:25 years
  Career Objective and Work experience
  Application type:
  Preferred job title:Foreign Language Translator: Foreign order superviser 、 Others: 、 Trade:
  Working life:3Title:primary title
  Job type:BothExpected Start date:In a week
  Expected salary:¥3,500--¥5,000Preferred working place:Guangzhou Tianhe Haizhu
  Work Experience :Company's name:Guangzhou Global Export Co.,LtdBegin and end date: 2009-06-2009-11
  Enterprise nature:Soly foreign funded enterprisesIndustry: Service Industry
  Job Title:Purchaser
  Job description:Take the customers to vist the factories ,and sign contract ;
  Sometimes will be responsible for prodcuts export ;
  Reasons for leaving:Traffic is inconvenient .
  Company's name:BlueRelax.S.R.L(Guangzhou Office)Begin and end date: 2008-10-2009-06
  Enterprise nature:Soly foreign funded enterprisesIndustry: Service Industry
  Job Title:Purchaser
  Job description:Hunting for suppliers through Conton Fair ,other domestic&international great exhibitions and B2B.B2C .platforms;
  Visit the factories and looking into the supply
  standing and products qualities etc situations ;
  To sign the purchaser contract ;
  Inspection products and following the shipment;
  Reasons for leaving:Personal reasons
  Company's name:Guangzhou New Yongsheng Computer Desk CorporationBegin and end date: 2007-10-2008-10
  Enterprise nature:Private enterprisesIndustry: Paper Making/Printing
  Job Title:Merchandier&Full order superviser
  Job description:Looking for customers through Conton Fair ,other great home&international great exhibitions and B2B.B2C .platforms(such as alibaba , made-in -china);
  Sign the sales contract ,order with the factory , arrange the good inspection and clearance customs,get full payment ;
  Reasons for leaving:Personal Examination
  Educational Background
  Name of School:GuangDong University Of Foreign Studies Foreign Trade
  Highest Degree:BachelorDate of Graduation:2010-10-01
  Name of Major 1:Business English DeparmentName of Major 2:Business English Deparment
  Education experience:Start dateEnd dateEducation organizationMajorsCertificateCertificate No
  2004-092007-09Social Safety Technology Of HunanProvinceBusiness DepartmentCET4,Foreign Trade order superviser
  2008-102010-12GuangDong University Of Foreign Studies Foreign TradeBusiness DepartmentPET4
  Language Ability
  Foreign Language:EnglishLevel:excellent
  Language ability:Contonese ,Japanese basic ;
  Chinese level:excellentCantonese Level:normal
  Relevant skills and abilities
  More then 2years in foreign trade ;
  Haveing attended the Conton Fairs ,familar with operating the B2B,b2c(such as alibaba , made-in -china etc.)platforms ;
  Could handling the foreign trade documents with computer softwares;
  Dealing with FOB , CFR , CIF etc trade terms ,L/C, T/T terms of payments;
  Command of oral engligh communication with foreign customers;
  Self-recommendation letter
  Dear sir or madam ,
  It's so glad to introduce myself for you .For my personality is , can be responsible for what i undertake, easy-going , patient ; on my working attitude , working hard ,could stand overtime work ,business trip etc working conditions ;In prospect of my personal planning ,i am hoping to earn more profits using my working experieces and studies , by this , to improve myself in the foreign trade field ,and i'd like to growth with you and your company .
  That's all .
【英文版个人简历】相关文章:
英文版个人简历11-18
英文版的个人简历12-10
英文版个人简历范文12-07
个人简历范文英文版本08-04
英文版个人简历封面10-28
个人简历模板英文版09-12
英文版个人简历封面02-22
英文版个人简历示范07-20
护士英文版个人简历02-26