电子商务专业英文简历模板
  导语:一份漂亮的英文简历可以让你给用人单位留下好印象。而这也是需要根据专业的.不同来撰写的。下面的例子就是电子商务专业的英文简历,我们可以一起学习一下。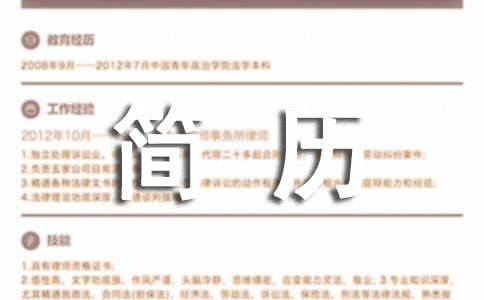 篇一:电子商务专业英文简历模板
  Name: yjbys
  Sex: Female
  National: Han
  Date of birth: July 1986
  Marital status: unmarried
  Height: 153cm
  Weight: 53kg
  Residence: Fujian Longyan
  Is the location: Tongan District Xiamen, Fujian
  Graduated from the school: Vocational and Technical Institute of the East China Sea, Xiamen
  Education: specialist
  Professional Name: E-commerce
  Year of Graduation: 2007
  Work experience: more than one year
  Contact Tel: **
  Job intentions
  The nature of jobs: full-time
  Post Category: E-commerce / sales / B2C/C2C / Logistics
  Job Title: clerks, procurement, customer service, warehouse, etc.;
  Work areas: Xiamen Jimei District; Xiamen Tongan District;
  Treatment requirements: 1000-2000 Yuan / month do not need to provide housing
  Reported for duty time:may at any time
  Skills expertise
  Language skills: English; Putonghua standard
  Computer level: computer proficiency, OFFICE office automation software
  Educational Background:
  Time school qualifications
  September 2004 - July 2007 Xiamen, East China Sea Vocational and Technical College
  Work experience
  Company: Xiamen Shun-Qing Automation Technology Co., Ltd.
  Time frame: December 2007 - January 2009
  Company nature: private / private companies
  Their respective industries: trade, commerce, import and export
  To hold office: sales staff
  Company nature: private / private companies
  Industry: transportation, logistics, express delivery
  Post as: logistics / warehousing
  Job Description: 07-03 to 07-08 is responsible for customer service and express shipping operations 07-08 to 07-11 is responsible for freight service and billing
  Self-evaluation:
  I have a strong team spirit among colleagues, have good interpersonal relationships; good at coordination.
  篇二:电子商务专业英文简历模板
  Name:yjbys
  Sex: Female
  Date of Birth :1990-07-01 Nationality: Chinese
  Account is located: current Xi'an: Xi'an
  Graduate institutions: the political landscape of Xi'an Institute of Foreign Affairs: member
  Highest level of education: post-secondary repair by a professional: e-commerce
  Personnel types: ordinary job graduation date :2010-07-01
  Job intentions
  Job type: Full-time or part-time
  Position: promising
  Hope Location: Xi'an
  Wish to pay: Negotiable
  Self-evaluation
  I accept the strong, active thinking, with good communication skills, hot to get along with others, full of team spirit and like to participate in the activities of the Organization. In the learning initiative, the courage to accept the opinions from all sides, not afraid of failure, can quickly sum up the lessons learned. The sale of a certain theoretical basis, there is a keen observation, clear thinking, able to do a cool look at and analyze problems, has a strong ambition. I personality: a mild, calm, self-confidence, self-discipline, do not boast. To do anything or not, or on efforts to complete the
  Practice experience
  Zhengzhou, China Unicom in 2007 with the company over two months, that of the marketing and some of the elements of teamwork.
  Summer 2008 Guy supermarket in Zhengzhou done 40 days of goods legislation, and that day-to-day operations and the situation of supply of goods.
  While studying at the school in 2009, made in China Resources Supermarket and other food promotions for some time
  Computer capacity
  Proficiency to PPT, EXCEL, WORDD and other office software and images produced PHOTO SHOP. Page three musketeers software

更多相关文章推荐阅读:
【电子商务专业英文简历模板】相关文章:
2.专业英文简历模板