材料专业英文简历范文
  一旦简历被招聘方认可,那么求职者便相当于有了就职的.把握,对于那些渴望获得心仪工作,且始终应对职场竞争压力的人而言,无疑是最令他们振奋的消息。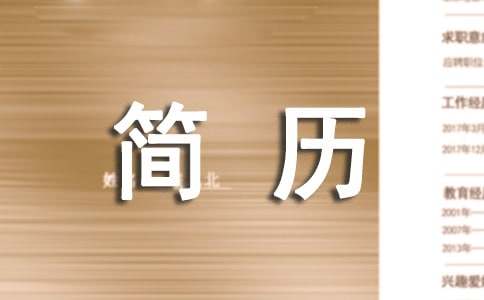 篇一:材料专业英文简历范文
  yjbys
  A 24-year-old from sichuan province
  Degree: bachelor's degree
  Length of work: fresh graduates
  Expected salary: negotiable
  Working place: shenzhen - unlimited
  Objective: electrical engineer | technology/process design | test/test
  Strong ability of communicative ability to learn ability and integrity, integrity and responsibility
  Education experience
  July 2015 tianjin university materials science and engineering
  Professional skill
  PowerPoint: good experience: 5 years
  Word: proficiency: 5 years
  Photoshop: experienced: 4 years
  AutoCAD: four years of experience
  Origin: good experience: 3 years
  Certificate award
  Certificate name: college English level 4 awards: June 2012: national college English test committee
  self-description
  I am honest and faithful, work conscientiously, be responsible, and work well. Have a positive attitude towards life and wide range of interests, has the good psychological quality and preparedness to work hard, to have their own opinions, and have strong ability of work coordination. I have a unique vitality and energy, and young people full of careers of mind and shock - affection, have good writing ability, oral expression ability and communication ability, pay attention to team work.
  篇二:材料专业英文简历范文
  yjbys
  The 27-year-old hunan man
  Degree: bachelor's degree
  Length of work: 1 to 2 years
  Expected salary: 5,000 to 8,000 yuan
  Working place: shenzhen - unlimited
  Job objective: other manufacturing/manufacturing jobs
  Work experience
  (worked for 1 year, 6 months, got 1 job)
  Yuxi industrial group co., LTD
  Working hours: July 2014 to January 2016 [1 year 6 months]
  Job title: material engineer
  Working content: material mechanical performance testing (strength, hardness, toughness, etc.), metal detection (microstructure, grain size, etc.) as well as the macroscopic examination.
  Education experience
  June 2014 materials science and engineering of south university
  Language skill
  English: better
  self-description
  Bachelor degree of materials science and engineering, solid professional knowledge, work more than a year, work theory combined with practice, fully understand the material testing and inspection of all kinds of national standards and industry standards, and dared to question in doubt. You should be diligent in your research, and you will be interested in reading professional books in your spare time, such as ASM Metals Handbook.
  As a technical personnel, at home and abroad often involves some technical problem, need to communicate both sides, on behalf of the unit to the supplier for many times and receive clients to discuss related issues. Participate in some projects of the company, as a team member, can cooperate with the team well, and obey the arrangement of the person in charge.
【材料专业英文简历范文】相关文章:
1.材料专业英文简历
2.材料专业简历范文