2017国贸专业英文简历范文
  中文是求职者的母语,而英文则代表一种与时俱进的国际语言,当求职者书写时对这两种语言的.运用缺一不可。如使用母语与英文结合的方式书写简历,则可使那些招聘方感到这位求职者在追求新颖的同时不会忘本,那么他在这家企业也会非常稳定的工作而不会经常性跳槽。从另一方面来看,中英结合的书写形式也可体现求职者的文笔与知识词汇量,这也是能力的一种展示方法。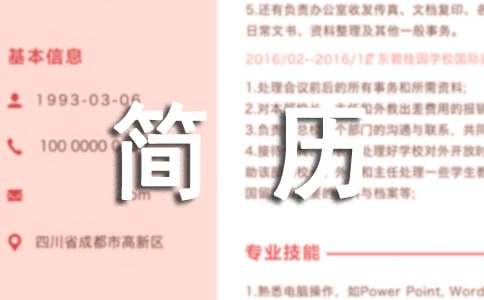 篇一:2017国贸专业英文简历范文
  yjbys
  The 23-year-old cantonese
  Degree: bachelor's degree
  Length of work: fresh graduates
  Expected salary: negotiable
  Working place: guangzhou - hua du-xinhua
  Job objective: taobao customer service
  Education experience
  In December 2016, the international economy and trade of guangdong university of science and technology
  self-description
  I study in international economy and trade, guangdong institute of science and technology as a senior graduates, now need to look for a job off-campus internship for school credit. I have a bright personality, a hard working attitude, and perseverance, and can devote myself to working long hours. Familiar with office software operation. Have national computer grade certificate, university English 4 certificate, international business management, customs clearance certificate.
  篇二:2017国贸专业英文简历范文
  yjbys
  The 24-year-old henan man
  Education: junior college
  Working life: within 1 year
  Expected salary: 3000-5000 yuan
  Working location: guangzhou - unlimited
  Job objective: assistant/secretary/clerk | taobao customer service | store management |, | domestic trade commissioner/manager
  People with strong ability to communicate, strong ability to communicate and strong ability to learn
  Work experience
  (working for 1 year, doing 1 job)
  Guangzhou quality technology
  Working hours: September 2015 to September 2016.
  Position name: business documentary and alibaba customer service
  Work content: alibaba uploads product, beautifies product picture. Responsible for customer reception and sales.
  Education experience
  June 2016, henan economic and trade institute international economy and trade
  Professional skill
  Word: good experience: three years
  Excel: good experience: 3 years
  PowerPoint: good experience: three years
  Photoshop: experienced: three years
  Photo shoot: experienced: 3 years
  Certificate award
  Certificate name: national computer secondary certification time: December 2014 institute: henan advanced computer research institute
  Certificate name: certificate of professional certificate of international business card: institute of foreign trade and economic cooperation of China in September 2015
  Certificate name: the certificate of the second class of putonghua is issued: December 2013: the international language working committee
  Certificate name: international trade solicitor's professional certificate time: February 2015: China foreign trade and economic cooperation enterprise association
  self-description
  I in June 2016, graduated from henan institute of economic and trade, international economic and trade professional, familiar with international trade related professional knowledge, has the international trade salesman professional certificate, international business documents member certificate, certificate of computer level 2. Familiar with Microsoft office software; Familiar with Photoshop, mastering the basic skills of picture processing; Having certain electronic trading ability; Fast to new things, proactive, steady, hardworking, responsible and self-motivated, team spirit and innovative consciousness. I hope you can give me a platform to prove myself, and I would like to make progress with your company and grow up together!
【2017国贸专业英文简历范文】相关文章:
3.国贸专业英文简历
6.国贸英文简历范文
8.国贸专业简历范文