简单英文简历模板范文
  求职者要记住你的个人简历必须突出重点,它不是你的.个人自传,与你申请的工作无关的事情要尽量不写,而对你申请的工作有意义的经历和经验绝不能漏掉。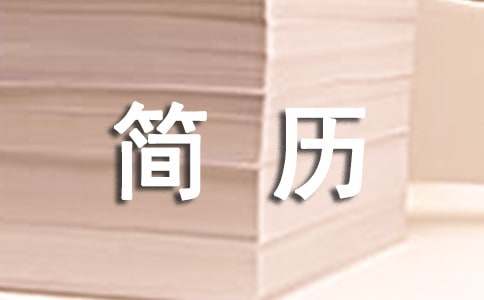 篇一:简单英文简历模板范文
  The basic information
  Name: yjbys
  Gender: female
  Age: 30 years old height: 156CM
  Marital status: married household registration: guizhou zunyi
  Top education: junior college experience: 3-5 years
  Contact address: zunyi county, guizhou province
  Job objective
  A recently worked position: bank of communications executive assistant
  Expected work: guizhou/zunyi city
  Expected position: full-time
  Expected monthly salary: 3000 ~ 4000 yuan/month
  Expected position: unlimited
  Expected industry: unlimited
  skills
  Skills: the ability to adapt to the ability of the ability to be able to endure hardships and endure hardships
  Education experience
  Guizhou business school (junior college)
  Beginning of the month: September 2007 to June 2010
  School name: guizhou business school
  Professional name: travel agency management and management
  Diploma: junior college
  Guizhou business school (junior college)
  Beginning of the month: September 2007 to June 2010
  School name: guizhou business school
  Professional name: travel agency management and management
  Diploma: junior college
  篇二:简单英文简历模板范文
  Basic information
  Name: yjbys
  Gender: man
  Age: 32 years old height: 165CM
  Marital status: married domicile: the lake district of guiyang
  Top education: bachelor's degree: 5 to 10 years
  Contact information: guiyang lake district
  Job objective
  Recently worked position: technical manager
  Expected work: guizhou/guiyang city
  Expected position: full-time
  Salary expected: negotiable
  Expected position: system analyst, database engineer
  Expected industry: Internet/e-business, technology IT, finance (investment/securities, finance (banking/insurance), medical equipment/equipment
  skills
  Skills: EXCEL, WORD, SPSS, ACCESS, SQL
  Familiar with network layout and operation.
  Familiar with JAVA, PYTHON, R, etc
  Education experience
  Guizhou national university (undergraduate)
  Start-stop: July 2005 to September 2009
  School name: guizhou national university
  Professional name: information management and information technology
  Education: bachelor degree
  Work history
  Information technology manager, xiangcai securities co., LTD
  Starting date: January 2010 to April 2017
  Enterprise name: xiangcai securities co., LTD
  Position: information technology manager
  Performance: responsible for the operations of the company's information system.
  Business scope: business scope: securities brokerage; Securities investment consultation; Financial advisers related to securities trading and securities investment activities; Securities underwriting and sponsorship; Self-run securities; Securities assets management; The securities investment fund; Margin lending business; Other securities business approved by the China securities regulatory commission.
  Training experience
  Gold mining and machine learning,
  Starting date: October 2006 to May 2017
  Training institution: the number of the training
  Training courses: data mining and machine learning,
  Training description: a system to learn the following knowledge: linear regression, ridge regression and Logistic Lasso, variable selection, dimension reduction, linear classifier, decision tree and support vector machine (SVM) artificial neural network
【简单英文简历模板范文】相关文章:
1.简单英文简历模板
2.简单英文简历范文
3.简单英文简历范文
7.简单英文简历