2017年程序员英文简历范文
  简历要一页纸之内;不要太挤太满,但也不要太空太稀,字号要在10-12之间(12略大,假如内容略少而扩成一页纸的.话可以采用),最好用暗格排版,即用word看出来有格子,但是转成pdf或打印出来后没格子的。这样比较利于对齐。但不要用黑格、黑线条之类再进行分栏,这样看起来很不惬意。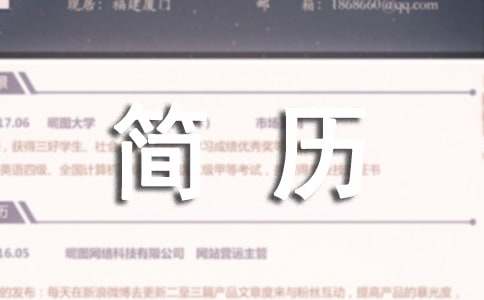 2017年程序员英文简历范文篇一
  yjbys
  Male 22 years old Fujian,
  Education: bachelor degree
  Working lives: within 1 year
  Expected salary: negotiable
  Working location: fuzhou - fuqing - there is no limit
  Objective: software engineer | | tutor for web design/production | website editor
  Strong interpersonal communication skills Strong learning ability Have affinity The good faith integrity a strong sense of responsibility Sunshine is bright Be good at innovation
  Education experience
  Graduated in June 2017 Quanzhou normal college computer software
  Professional skills
  C # : skilled experience: 2 years
  PHP: skilled experience: 1 year
  Java: general experience: 1 year
  Photoshop: general experience: 1 year
  Certificate of award
  Name of the certificate: certificate of national computer software Issued by time: July 2016 issuing authority: industrialization of industry and information department of the People's Republic of China
  Self description
  Love psychology, love photography, love programming.
  2017年程序员英文简历范文篇二
  yjbys
  Female 24 years old,
  Education: bachelor degree
  Working lives: fresh graduates
  Expected salary: 3000-5000 yuan
  Working location: fuzhou - there is no limit
  Objective: other software/Internet development
  Education experience
  Fujian engineering college computer science and technology in school today
  Project/training experience
  In November 2016 - December 2016 personal blog
  / training contents of project: as a graduation design project by oneself and the other three partners do one for the game, teaching and communication of a personal blog platform. In January 2017 - February 2017 business city background project/training content: which shopping mall and both require a background to manage data. It USES ThinkPHP framework, the application of MVC, implemented in a wamp environment administrator login, add goods, merchandise display list, add classification, some background, such as classification list, add the administrator functions as needed.
  Professional skills
  PHP: skilled experience: 2 years
  HTML: skilled experience: 3 years
  C: skilled experience: 5 years
  Java: general experience: 1 year
---
【2017年程序员英文简历范文】相关文章: