会计求职简历英文范文
  国际会计经常需要英文写简历,小编专门搜集整理了会计求职简历英文范文的相关文章,希望能对您有所帮助,如果觉得有用的话可以分享给自己的朋友们!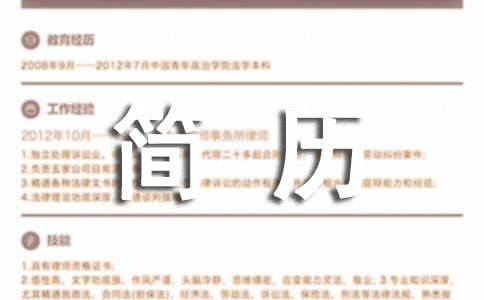 会计求职简历英文范文一
  PERSONAL DETAINS
  Name:Junjun Du
  Gender:Male
  Birthdate:May 25, 19xx
  Birthplace:Harbin
  Married :No marriedFax:(8610)6201-7895
  E-mail:dujunjun@jxue.com
  OBJECTIVE
  An accounting position offering the opportunity to utilize my professional financial expertise,extensive business experience, ability on a worldwide basis.
  SUMMARY OF QUALIFICATIONS
  *Accountant Administrative Manager of mediun-sized motor components manufacturing distribution company serving national international markets.
  *Hands-on experience with firm of certified public accountants auditors.
  *Certified public accountant auditor.
  PROFESSIONAL EXPERIENCE
  1998 LISMORE SHIPPING CO.,LTD.,Loretta,PA
  Accountant
  *Managed,developed,and maintained all aspects of finance,accounting,foreign exchange dealings,marketing,and data processing of company its overseas offices in London New York *Controlled budget,cash flow,and capital expenditure
  *Reviewed, analyzed, evaluated finances securities pertaining to advances shipping for client base of about 200.
  *Established maintained close relationships with bank executives,auditors,and attorneys,ensuring compliance with all regulatory bodies.
  1985-1988 RABINO PRODUCTS, Meadville, PA
  Accountant
  *Developed implemented corporate project-oriented financial strategies.
  *Provided financial overview leadership for all major operating considerations activities, including development of business profit plans.
  *Controlled line management for all accounting,production costing,EDP,and financial functions.
  1981-1983 MANNINGS,DAWE,AND BOND,Pittsburgh,PA
  Auditor
  *Auditor private companies,listed companies,partnerships,and individual businesses.
  *Prepared financial statements schedules.
  EDUCATION
  UNIVERSITY OF PENNSYLVANIA, Philadelphia,PA
  Bachelor's Degree,with major in Accountancy,Marketing, Business Finance,1981
  Summary of qualifications highlight candidate's strengths.
  会计求职简历英文范文二
  Name:
  Address:
  Phone No.:
  OBJECTIVE:
  Auditor position in the public accounting field in the Chicago area.
  SUMMARY:
  More than two years of progressive accounting and auditing experience.
  Auditor internship with Ernst & Young in New York City.
  Magna Cum Laude graduate with BBA in Accounting.
  Proficient with MS Office, Windows 2000/XP, and the Internet.
  EDUCATION:
  Bachelor of Business Administration in Accounting, May 2006
  Illinois State University, Normal, Illinois
  Graduated Magna Cum Laude with a GPA of 3.6 on a 4.0 scale
  Courses taken included:
  Managerial Accounting Corporate Audit and Reconciliation
  Intermediate Accounting I & II Financial Management
  Accounting I & II Internal Audit
  Accounting for Not-For-Profits Managerial Economics
  EXPERIENCE:
  Auditor Internship, May 2005 to August 2005
  Ernst & Young, New York, New York
  Participated in the annual audit of Omega Megalithic Holdings, including development of the final certification report.
  Participated in quarterly audit of Alpha Bank Corporation, including identification and correction of over twenty major accounting errors.
  Developed several Excel spreadsheet macros currently in use for reducing entry time and automatically cross-referencing for errors.
  Received Employee of the Month award twice--first intern ever to win the award.
  Accounts Payable/Bookkeeping Clerk, May 2003 to Present
  Anytown Tax and Bookkeeping Service, Anytown, New York
  Assisted (via remote) with payroll, tax, and account processing.
  Developed automated monthly sales tax payment system.
  Implemented Rapid Tax Refund service for individual customers.
  ACTIVITIES:
  Vice President, Student Accountancy Chapter, 2005-2006
  Treasurer, Beta Gamma Sigma honors society, 2005-2006
  Dorm Resident Assistant, 2004-2006
【会计求职简历英文范文】相关文章:
5.会计求职英文简历