服装设计专员英文个人简历范文
  name: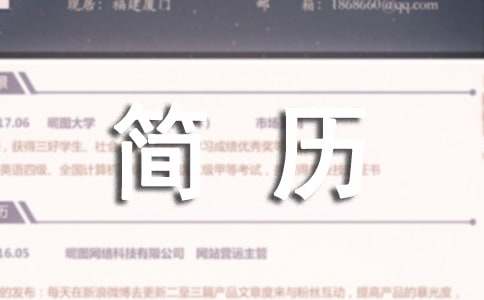 gender: male
  birth
  school graduated: tianjin academy of fine arts
  degree: bachelor of arts
  telephone: -xxxxxxxx
  e-mail: ****@****.cn
  address: no.4 tianwei rd., hebei district, city of tianjin
  hobbies: design of ethnic style, various kinds of painting, literature, music, sports
  awards
  winner of the scholarship for "excellent student leader" of tianjin academy of fine arts in XX
  (the outstanding awards of the final round of men' wear section of zhonghua cup international fashion design competition in XX and XX)
  work experience
  founded tianjin training studio of fine arts in 200x and have since tutored a lot of students most of whom got enrolled into many famous schools later on)
  employed by yun zhijun tang suit company from the 2nd half of 200x to the 1st half of 200x. mastering various designing processing software. handling the skills of layout and grading and know something about crafts and arts. having a stable foundation of freehand drawing and design sketch. knowing well about the process flow and being able to work independently.
  employed by guangdong yue hua spinning company from 200x to 200x as a designer. designed commodities foe the china importing and exporting trade affairs of 200x and winning a lot clients for the company. by then having been testified on the ability of designing.
【服装设计专员英文个人简历范文】相关文章: