咨询行业个人英文简历
  简历在我们求职中发挥着重大的作用,怎么去制作一份好的`英文简历呢?下面是小编搜集整理的咨询行业个人英文简历,欢迎阅读,供大家参考和借鉴!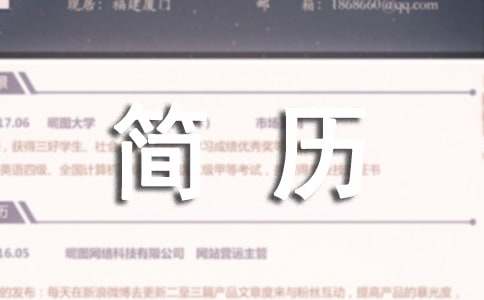 咨询行业个人简历
  Andre Norbert
  City, State
  24th ABC, Boulevard Home: 10021-002365-54897
  Cell: 1250-12548-98751
  E-mail: norbert.andre@businessinfo.com
  Career Profile:
  A highly talented, accomplished and professional SAP B1 Consultant with proven track record of developing quality software products. Seeking a position as Senior B1 consultant to utilize my skills and proficiency in a renowned IT firm.
  Areas of Interest :
  Possess excellent knowledge of OOPs and SDLC
  Highly motivated, self-driven and excellent team player
  Ability to comprehend and modify the configuration of software applications and web services
  Familiar with coding and software engineering life cycles
  Possess voluminous knowledge of database and pays attention to details
  Possess extensive knowledge of core CRM business processes
  Highly skilled in SAP Business One Module and designing Print Layout
  Goal oriented and ability to perform tasks under pressure
  Technical skills:
  In-depth knowledge of Windows 2003, XP, SQL server, Vista, IIS and .NET infrastructure and technologies
  Knowledge of Languages like SQL, HTML ,C# ,Visual Basic .Net , .NET Framework, complex XML Schema and Java script
  Extensive knowledge of SQL Server 2005, SQL scripting, SQL Batch Jobs, SQL DTS Packages and SQL back-end
  Professional Experience:
  ABC Global software solutions, Boulevard
  20XX to till date
  SAP B1 Consultant
  Handled the tasks of installing and configuring business applications
  Responsible for developing menus and screens by using the method of dialog programming
  Developed and designed process to integrate Business One with 3-party applications
  Assigned the tasks of developing project plans and schedules
  Handled the tasks of supervising and maintaining MS SQL backups and SQL servers
  Responsible for recommending and responding to issues and questions regarding software implementation
  Assigned the tasks of creating reports by using Queries, User Defined fields ,Formatted searches and User Defined tables
  Handled the tasks of conducting training to users on SAP's functionality
  Assisted users regarding screen and menus development to streamline their process flow
  TRITECH Software, Boulevard
  20XX to 20XX
  SAP B1 Consultant
  Assigned the tasks of developing forms and structures of Print Layout Designs
  Assisted the Project Manager in handling a project with a software company, Evitable Inc., based in Cuba City, Boulevard
  Responsible for providing technical support in case of issues related to SAP Business One, software and SQL Server setup
  Handled the tasks of working out in ERP designed for mid-sized and small business firms
  Performed other tasks as assigned
  Educational Qualifications:
  Bachelor of science in Computer, Boulevard Science college, Boulevard 19XX
  Master's degree in Information systems, Information Technology Center, Boulevard 19XX
  Certificate course in SAP B 1, ABC center, Boulevard 19XX
  Reference:
  Will be available upon request
  咨询行业个人简历
  Marc Smith
  15th Lane Avenue, Near New church, Houston
  Home: 00658-21589-98754
  Cell: 00125-4587-9685
  Email: smith.marc@edd.co.in
  Career Profile:
  A highly skilled, talented and professional training consultant with diverse experience in conducting technical training for customers, field personnel and internal staff. Looking for a position of technical consultant in a well established organization.
  Professional strengths:
  Possess excellent verbal and written communication skills
  In-depth knowledge of training evaluation methodologies
  Possess effective presentation and organizational skills
  Familiar with alternative training methods like e-learning
  Possess good project management skills
  Ability to built rapports and interact easily with clients and co-workers
  In-depth knowledge of internal structure of the organizations and operational activities
  Possess sound knowledge of LCDS, POD, AFP and PDC
  Technical proficiencies:
  Proficient in Microsoft Office suite, Dreamweaver, RoboDemo, RoboHelp, Tool book and Flash
  Familiar with HTML, peoplesoft, Doc-to-help, Access, Microsoft Word and PowerPoint
  Professional Experience:
  ABBC Inc, Houston
  20XX till date
  Training Consultant
  Responsible for preparing lesson plans on methods and documentation to be presented
  Handled the tasks of designing and developing technical training curriculum for the entire customer base
  Supervised administrative function in absence of higher management
  Conducted trainings on technical skills for field personnel, internal staff and customers
  Utilized assessment tools to determine the effectiveness of training programs
  Instructed learners in remote locations and classroom environments
  Handled the tasks of gathering technical documentation and develop courseware for instructors and learners
  Conducted follow up evaluations to determine the applicability of course materials
  Floret Co Inc, Houston
  20XX to 20XX
  Training Consultant
  Responsible for guiding and monitoring training programs to enhance the quality of training sessions
  Handled the tasks of managing roll out, administration, production, evaluation and continuous improvement of learning products
  Conducted training on visual investigative analysis software via WebEx to intelligent analyst in classroom environment
  Enhanced the training material by adding realistic data and case studies
  Consulted managers, trainers and employers in generating effective learning and development strategies
  Assisted higher officials in project management by offering feedback and training to the project team members
  Redington Enterprises Inc, Houston
  19XX to 20XX
  Assistant Training consultant
  Responsible for planning, organizing and implementing new training programs
  Handled the tasks of gathering innovative information and training resources by using internet and various sources
  Monitored and supervised activities of different departments
  Participated in the delivery of functional/business specifications for learning about different products
  Educational Summary:
  Bachelor's degree in instructional design , Design College, Houston19XX
  Master in instructional system development, Houston University, Houston, 19XX
  Personal Details:
  Name: Marc Smith
  Date of Birth: XX/XX/19XX
  Employment Status: Full time
  Relationship status: Single
  Reference:
  Available upon request
【咨询行业个人英文简历】相关文章:
2016咨询行业个人英文简历08-30
IT行业个人英文简历11-16
心理咨询行业的求职英文简历10-30
咨询行业个人简历范文08-30
IT行业个人英文简历范文11-20
金融行业个人英文简历11-16
教师行业个人英文简历11-16
金融行业个人英文简历模板09-12
金融行业个人求职英文简历09-15